How to host a murder mystery party?
A murder party for a successful evening with friends!
Would you like to organize an original party with your friends and family? Become a detective and lead the investigation to discover the culprit. Live a fun adventure that will mix moments of complicity, emotions, reflection, and laughter.
Birthday, bachelorette party, bachelor party, cocktail party, family weekend… Whether with friends or family, a murder mystery party is the perfect entertainment for your evenings or dinners with friends! Will you be able to solve the mystery?
I. What is a murder mystery party?
A murder mystery party is a life-size role-playing game with or without a game master. This event may also be referred to as a "murder party" or "live cluedo".
How does it work? It is a game that proposes a series of riddles and investigations around clues, where players are free to play a role or not.
This detective game can be compared to an Escape Room game because the objective is the same:
Join a detective's universe;
Solve a multitude of riddles;
Find the final mystery;
A challenge in a limited time.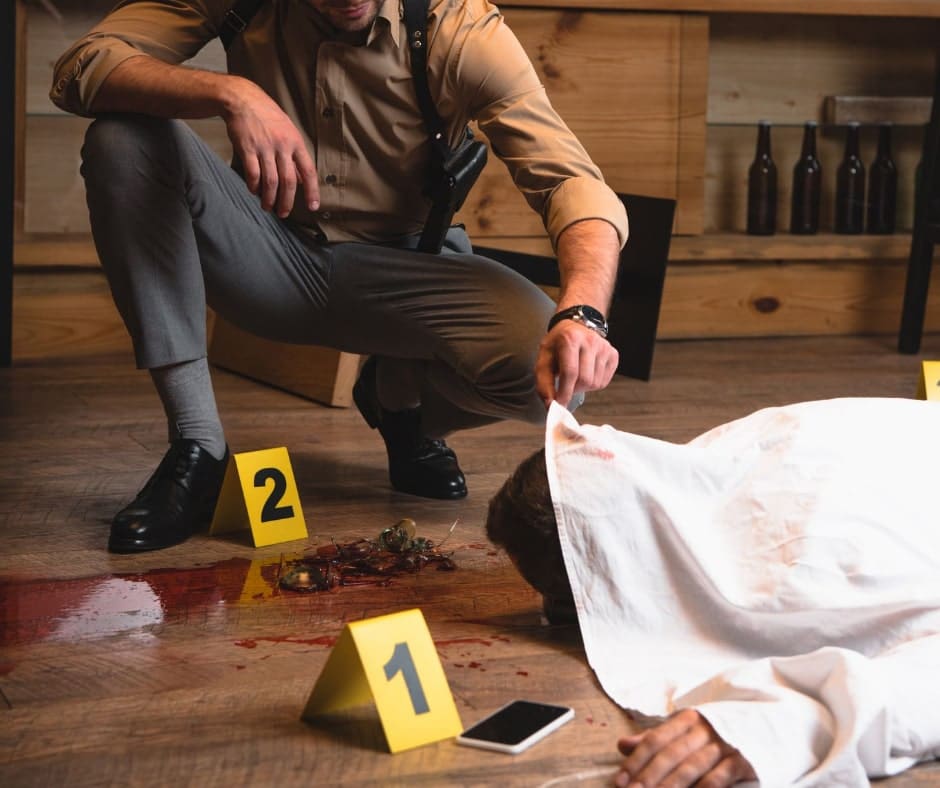 How about a detective dinner with your friends and family? We want to play with a lot of O-RI-GI-NA-LI-TY, he-he!
Are you full of energy and imagination, do you have a lot of ideas for scenarios in your head? We can help you create your own game from scratch (Part I)! If you lack time and inspiration, we have the solution! Discover our ready-to-use murder mystery game (Part II)! What will be your choice? 😉
II. Creativity and innovation: create your game from scratch.
Never played full-size games before? No problem. It is possible to plan & host a murder mystery party or live cluedo, in your living room. As the event organizer, you will be in charge of the organization from the beginning to the end: reflection, creation, installation, animation…
1. The subject and the setting
First, choose a theme or era that inspires you to set up your scenario. Wording is important to make players want to play. Your words should be thoughtful: clear and compelling.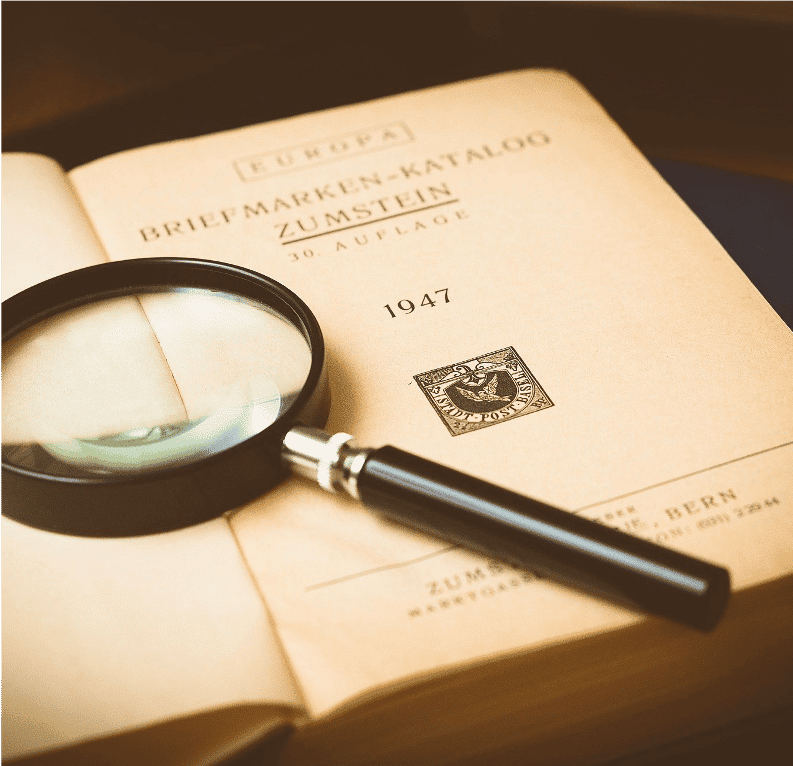 Looking for inspiration? You can find several scenarios already designed: murder mystery party website.
2. The characters
Decide on the number of participants to create a role for each one. You will have to be imaginative.
To do this, create cards for each character with the essential information for your friends: name, surname, age, mini biography, relationship between the characters, brief description of the context: history, time, places, etc.
Send them a description of the role you have assigned them, so that they can assimilate it and even play through to the end!
You may see them arrive in costume, makeup, and props… Bring out the actor in you!
Although it's fun, it's optional! You can have just as much fun – the quality of the scenery and puzzles will be the key to making the game exciting!
3. The environment: be creative!
The choice of the place where your entertainment will take place is of vital importance for the success of your evening. Indeed, the place where the game will take place will contribute to immerse your guests in the game.
For this reason, it is ideal to have a place with several spaces so that players can move from one room to another.
Think about the decoration! It is essential to increase the realism of the story. Sometimes it doesn't take much. 😉
You can use:
Fake blood: ketchup, tomato sauce…
Soil: if the murderer is the gardener, or if he got into the garden…
Photos: print some photos found on the Internet related to your theme.
Accessories: for example, put a hat, a tie, a blue sock… if the victim or the killer has been described having these elements.
Overturned objects: show signs of a struggle, reclining chair…
A small musical touch can be added, such as a thematic playlist available on the Internet or sound effects from the sound library.
Doors slamming, shouting, blowing, footsteps, rustling… Surprise your loved ones!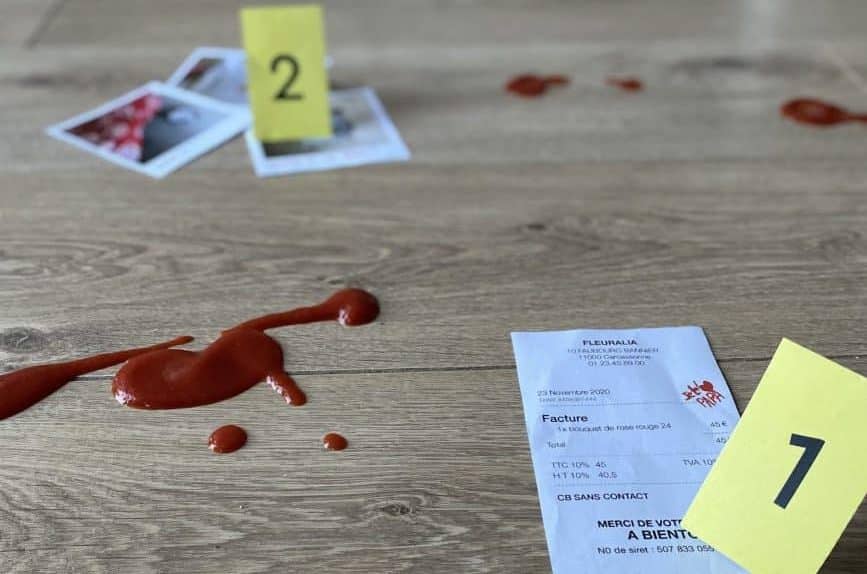 4. Your role as an animator
As the murder mystery party orchestra conductor, your role is E-SSEN-TIAL!
Yes, it's up to you to make the game run smoothly. ZEN! Take a breath and get into the skin of your character, play with emotions.
Example: a depressed person with tired gestures, an authoritarian person with a firm voice, an overexcited madman who can't sit still… The only limit is your imagination. Ridicule doesn't kill, so play to the max!
What's important? Spending a fun time with your teenagers or friends.
5. Start the game
Do you have everything set up and are your friends ready to play? This is where it gets interesting. Prepare a "to-do list", such as checking that everything is set up, reading the scenario to the players, explaining the concept and rules, setting a timer, scaring the players at puzzle number 3, putting on a creaky door sound effect….
Once the game has started, keep an eye on the players to keep up the pace of the game. Liven up the game with unexpected things like sound effects, a light that turns on, an action to do… HAVE FUN!
Players will be able to put themselves in the shoes of an investigator like Daniel Craig in the movie "Knives Out" or "Glass Onion", recently released on Netflix. Enjoy an incredible murder mystery party!
6. Has the mystery been solved?
Well done! Congratulate the guests for playing the game and for their skill in solving a mystery. Why not give them a small diploma to celebrate? They'll appreciate leaving with a little souvenir of this dinner with friends. Immortalize it with a few photos: 3, 2, 1… CHEEEEEEEEESE!
Creating your own mystery game is no easy task. As you have just seen, it requires creativity, time and organization. However, with imagination and preparation, you can do it!
Do you want to organize a murder mystery party without worrying about anything? Discover our ready-to-use game to organize it quickly and easily! 🙂
III. Simplicity and speed: a research ready to organize!
If you feel like it, but don't have the time, or are just curious, opt for a ready-to-use kit with our murder mystery party game: The mysterious murder!
The advantage? Even the organizer can play. Good news, right? 😉 The concept? It's as easy as 1-2-3: print, set up and play!
1. The contents of a kit
Our game is a complete kit, ready to play, containing:
Pssst, go here to download your murder mystery party game in PDF. Invite your friends and family to join you in an exciting and immersive investigation with the invitations available in the accessories. Follow the instructions in the guides, designed to save you time.
2. Miscellaneous news item: family drama at Thompson Manor
Mrs. Thompson's lifeless body has been found. You are a criminology student and have been asked to look for clues and find out what happened while you wait for the police to arrive.
Your mission? Find the culprit using the clues found at the crime scene by carefully following your notebook and evidence markers. Will you be an outstanding investigator?
3. The environment: express your creativity!
Let your imagination run wild by creating an atmosphere worthy of a real crime scene.
To do this, use the accessories included in your kit (e.g., a blindfold at the crime scene) or take some items with you: fake blood, magnifying glass, police equipment, etc.
Since the murder took place in a room, you can make it look like there was a fight:
Knocking over objects: lamps, papers, chairs…
Unbutton the bedsheets;
Put cushions on the floor and cover them with a sheet to represent a body;
Put ketchup or tomato sauce on the floor;
Give players a pair of plastic gloves,
Place some baking utensils (see photo) in the kitchen where the riddle will take place.
Let your imagination run wild to create a real scenario!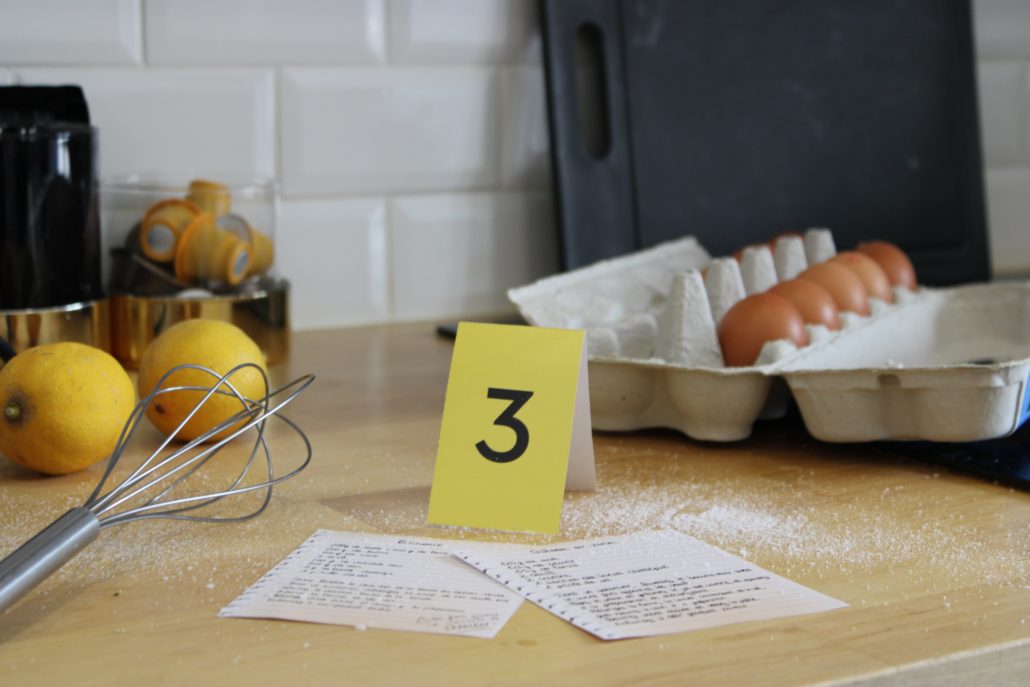 4. Between reality and fiction
A murder mystery party is when players confuse reality with fiction. Not to mention putting a real corpse! Bringing the immersion to the house is not complicated and, in addition to the decoration, propose to your friends to play by becoming investigators. A hat, a magnifying glass, a pipe… Yes, Sherlock Holmes is welcome, hahaha! The more you play, the more fun and memorable the game will be!
5. Ready to play?
Are you all ready for an exciting investigation? Let's get started! Start by reading the story and then read the rules of the game to find out how to solve the investigation.
The context is set and the rules announced… Go ahead and start the 60-minute countdown to see how much time is left before the cops arrive.
6. Do you have the culprit?
Congratulations, Chief Warrant Officer Bryan Smith is proud of you!
You deserve the diploma of the best research team, haha! Print your diploma, which you will find in the accessories included in your kit.
Pose proudly with the photo booth and send us your photos to contact@escape-kit.com. 😉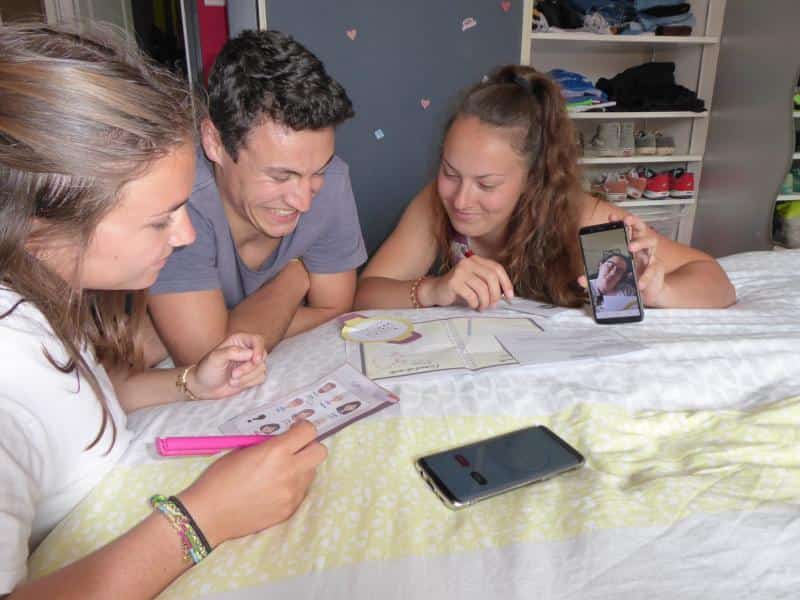 As you may have read, this murder mystery game comes complete and has everything you need to host & plan your murder party or live cluedo easily and in no time at all.
What's more, even the organizer can play, as there is no need for a Game Master. Isn't that great? A simple organization thanks to the guides and a game already designed, it's a considerable time saver! So you can concentrate on preparing the appetizer, he-he. 😉
Are you torn between taking a leap of faith and creating your own game or having it ready to play? For us little slackers, the choice is obvious, haha. A printer and a quick set up of the crime scene before the guests arrive! These parties with friends can become original and fun with a little "murder party" animation: it will also be the occasion to play an escape room game with the family! Discover our murder mystery party game.