How to celebrate a Harry Potter birthday party ?
Tips for a magical birthday party ideas !
If like us you are a big fan of Harry Potter, you are in the right place ! In this article we'll give you our tips and advices on how to create an incredible Harry Potter birthday party.
The objective ? To make this day as fun and magical as possible.
We all know how important it is to celebrate our birthday when we are children. Here are the essential ideas to make your toddlers experience a magical day !  
As parents, we want to do our best to make this day unforgettable for our children. But how can we organise a birthday party at a low price ? It's not easy to set up the decoration, the snacks and the activities to liven up this important event.
So get ready to get your hands dirty !  
1. Harry Potter invitations addressed to wizards
Guess what ? Escape Kit's team has created invitations ready to be printed and sent out. Too good to be true ? Well… it's real.
Of course, a birthday party without guest it's not funny ! Don't waste any more time and get started : click, download, print and you're done !
Here it is! You have to print it on both sides: Harry Potter Invitation
2. Create your Harry Potter DIY costume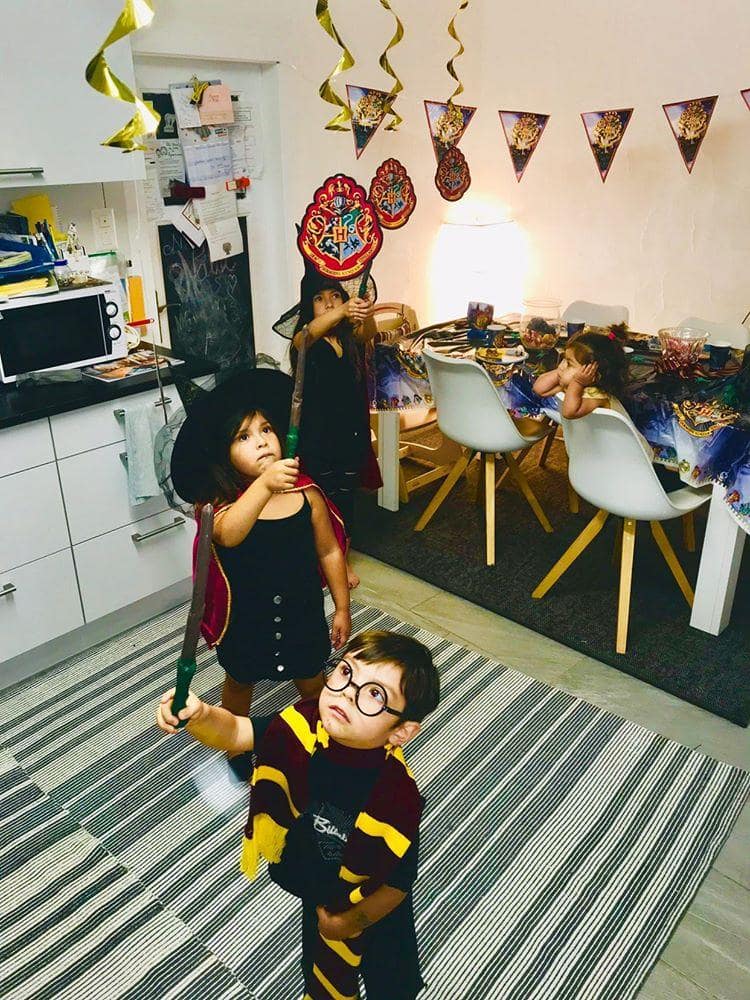 CountryLiving has written an article presenting different ways to create your own costume.
We propose you to create your own Harry Potter costume ! Simple, economical and funny ! What do you need ?
Red and yellow tissues to create your wizard scarves.
A black pullover, if you don't have a Cape
A little bit of black make-up, to draw your lightning bolt on the forehead.
Finally, a sheet of paper to draw your round glasses on.
If you look at the above article, you can see that there are dozens of ways to create your Harry Potter costume using many different materials.

To help you, you can create your wizard costume with the help of your children. Also, they will be able to try it directly on them !
Ready, set… go !
Don't forget to take scissors, glue, tissues and a black pen. These objects are essential in the realisation of your future masterpiece.
3. Create your own magic wand !
What would a magician be without his magic wand ? It's a must have and be sure, children will love this idea ! There's nothing better than bringing a little touch of magic and fun to a birthday party. 
You like to go for a walk or take your little ones for a walk in the park ?
Take the time to look for some wooden sticks, and then TA-DA ! The wands of the sorcerer's apprentices are ready, all they have to do is pronounce the magic formula.
Little tip : add a touch of originality with a bit of paint on the sticks. Pssst, children will love the idea of a personalised stick !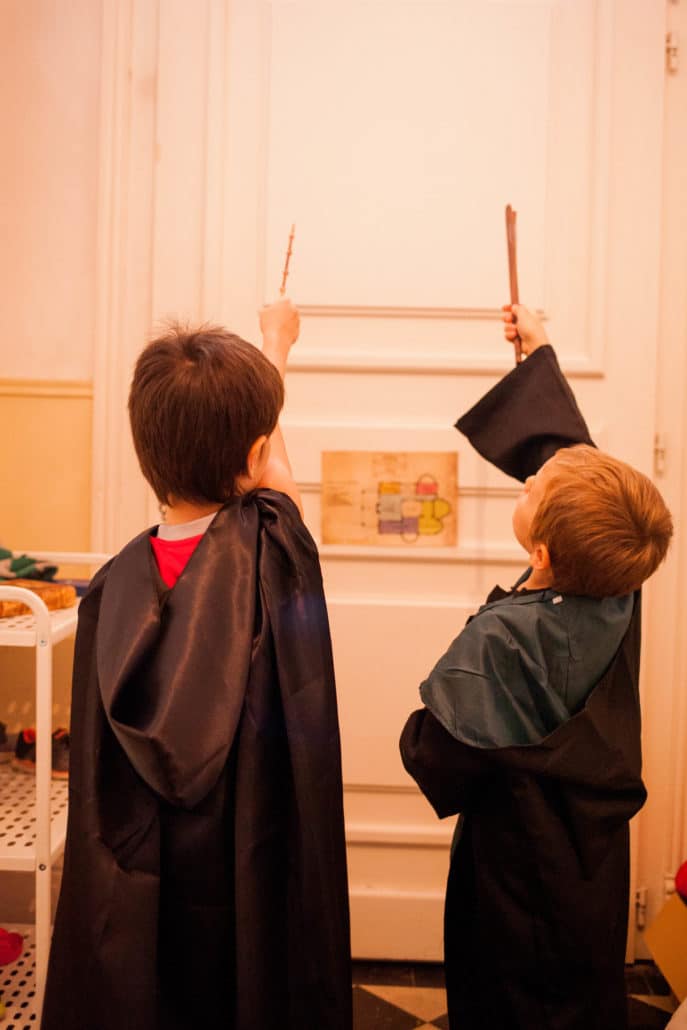 4. Magic potions, the children's favourite activity !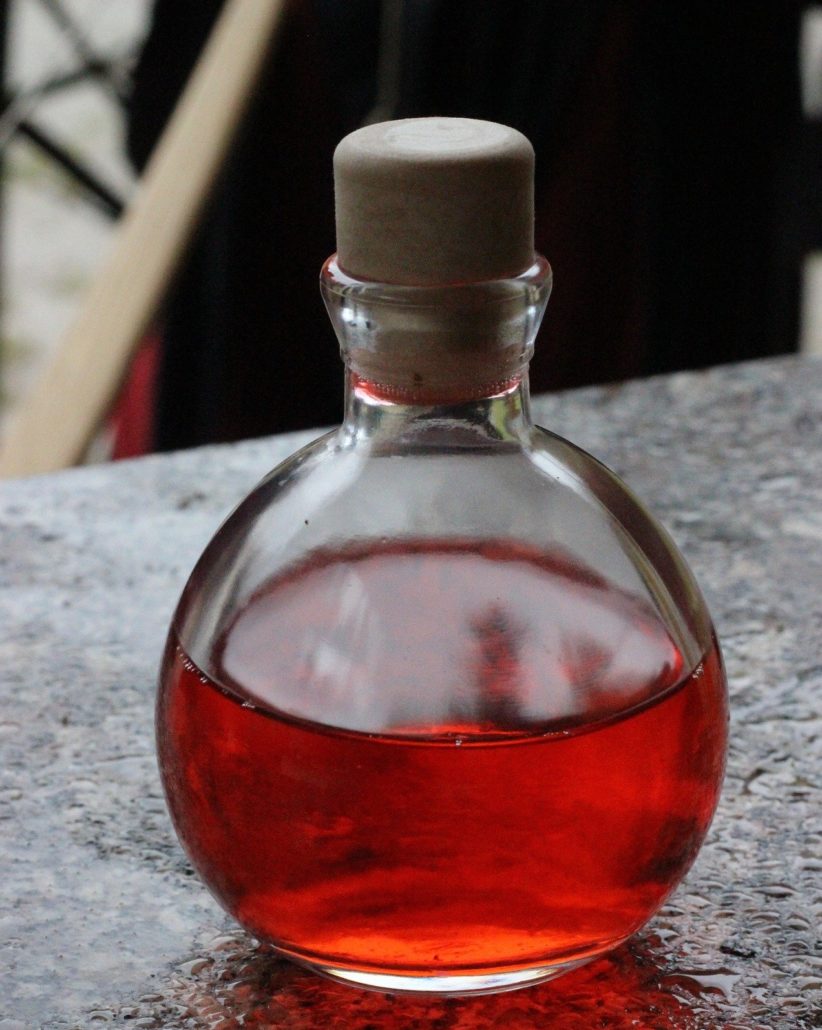 Magic potions, kesako ?
You are wondering : How am I going to do that ?
We reveal you the secret ingredient that you must not forget and reveal : a teaspoon of silver or gold food powder, a glass of water and syrup (whatever the taste). 
Mix it all together and BOOM, your magic drink is ready to be savoured. 
A potion that is sure to make its little effect with little wizards !
5. Birthday cake lovers !
Oh, and how could we forget the famous birthday cake ?
We can't celebrate without preparing our children's favourite sweets. 
So we have found a quick and easy recipe to make a delicious sponge cake, so simple, that children will be able to help you.
Do you have the toque, the apron ? Ready to do Top Chef ? Let's go !
The ingredients you need to prepare your pastry :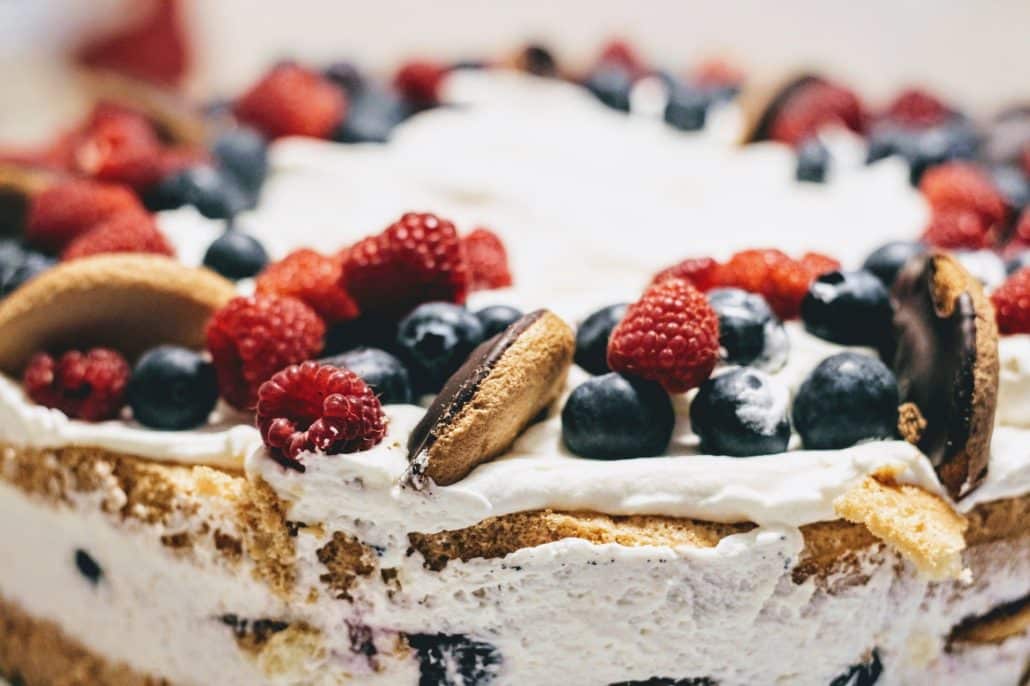 4 eggs 
125 g sugar
125 g T45 flour
½ sachet of baking powder
Do you have all the ingredients ? Let's go !
Preheat the oven to 180° and butter a cake pan.
In a bowl, mix the flour and baking powder.
Separate the egg whites from the yolks and whisk the egg whites until they form peaks, adding a small pinch of salt. When your mixture is firm, add the sugar and continue beating. 
Once the preparation is ready, add the 4 egg yolks, mix and without stopping, add the first mixture (flour and baking powder).
Pour the preparation into your pan, smooth the surface and bake for 20 minutes. 
Yum, your cake is ready ! It's up to you to decorate it as you like with whipped cream and strawberries for example (children love it !).
6. An Escape Room based on Harry Potter theme ! 
And last but not least, the must-do activity to entertain young and old ones !
The team has created "The Sleeping Curse" (6-10 years old) an at-home Escape Room inspired by the Harry Potter universe, to transform your house or flat into a magical adventure. 
A complete kit contains an installation guide, clues and answers guide, the game puzzles, accessories to immerse children in this wonderful universe and a personalised playlist.  
The story ? "The new school year has begun in Iwinery, the Academy of Magic and Witchcraft. All the students are, like you, excited and impatient ! On the first day of school, you don't hear your alarm clock and you arrive late… and then… amazed ! A curse has fallen on Iwinery and all the children, usually so joyful, are plunged into a sleep that seems eternal…"
Everything is ready for the children become real magicians and solve all the puzzles in less than an hour. They will have to find the magic formula to break the bad spell that has been cast on the Academy of Sorcery and Magic. 
The concept ? Print, install and it's up to you !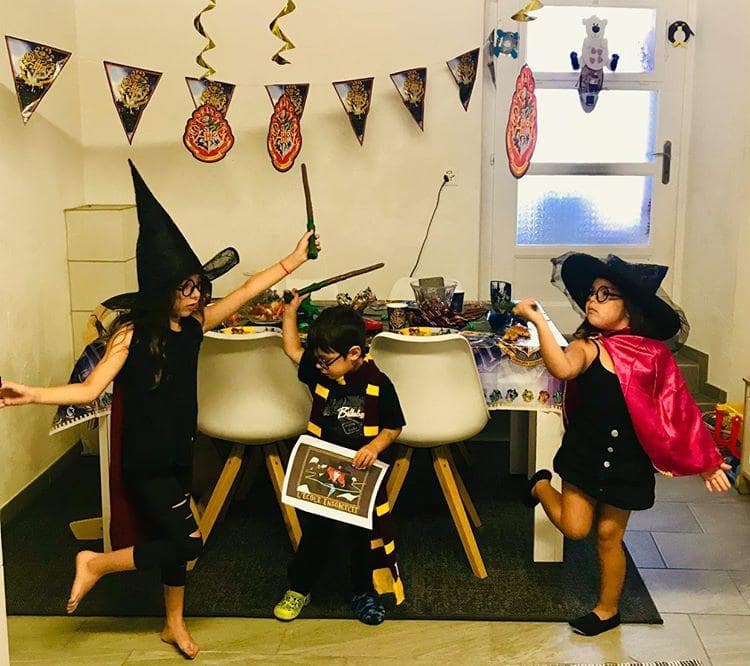 And "Scouring Charm" ! It's your turn.  Let's go for the magic adventure! 
We hope that this party will be a success and that the children will talk about it for a very long time to their friends. 
*Scouring Charm : spell to clean everything 😉