How to create an at home escape room?
Are you a fan of Escape Rooms and you would like to create one without leaving your home? It's much easier than what you think!
No matter if it's for your children's birthday party, a night with friends or a weekend with your family.
Also for a bachelorette party or a wedding… There are many opportunities to turn your house or flat into a real Escape Room game!
And why not try it at school or even at work for team building sessions? Let your imagination run free and stimulate the team spirit!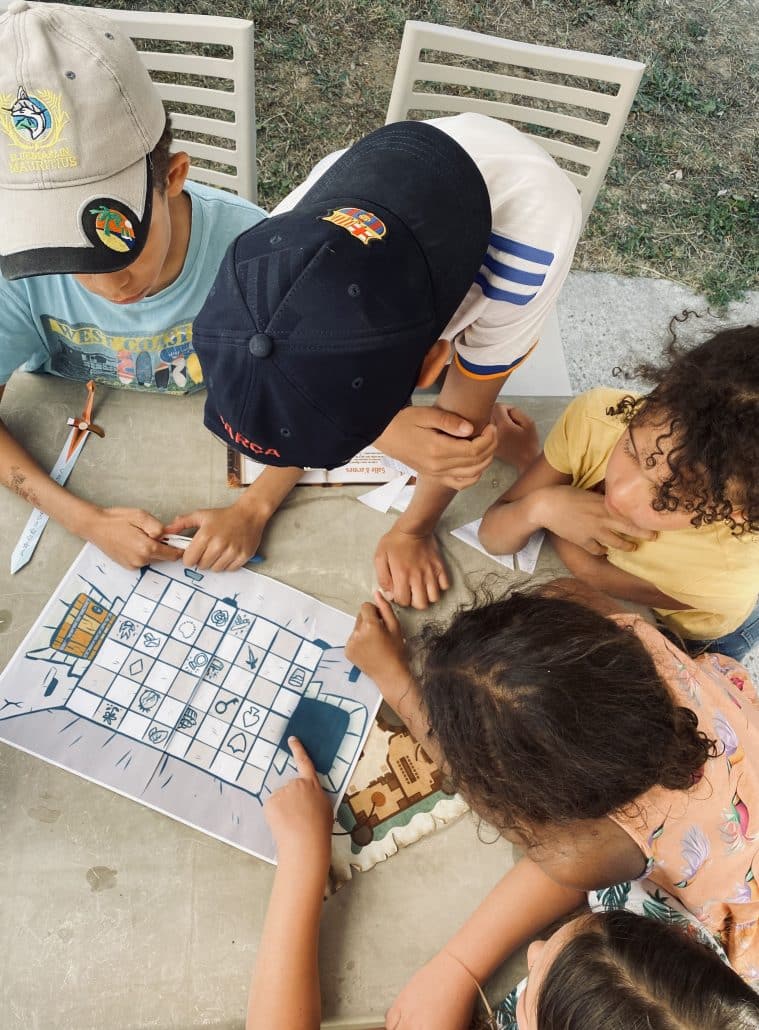 How to do it?
Are you ready to create your own escape room? The one you will share with your family, friends, classmates, and colleagues? Let's start!
Creating a DIY (Do It Yourself) Escape Room takes time, a bit of expertise, concentration, a lot of creativity and, above all, a lot of organization to create the universe of the game and the puzzles. But it's a fun thing to do, so be brave and follow the instructions in the guide!
Short on time or inspiration? Opt for an Escape Room kit, ready to use and easy to install. Just print, install and play!
1 hour Escape Room countdown with music
Get organized for a successful Escape Room!
Setting up your own Escape Room is an exciting project, especially if you've never done it before. But it's a mission you can succeed in if you follow a few rules.
Using this method, you can explore the whole process of creating an Escape Room without spending months on it.
Limit play time at 30 minutes
Is this your first time creating an escape room? To create your game, start with 30 minutes instead of an hour. You'll see that it already takes a lot of work!
First, plan how much time you are going to give to the creation in order to be successful and ready in time for the day (especially if that date has already been set!). Of course, small changes in your schedule or tiredness can happen, but try to stick to it as much as possible or reschedule.
PS: if your friends are coming tomorrow, or if your children's birthday party is in a week, don't lose time! Download and print one of our many Escape Room Kit to save time.
I. Write the scenario for your home escape room!
Time, concentration, creativity, research… This step isn't easy for a DIY (Do It Yourself) Escape Room. It requires a lot of involvement, but be persistent. 😉
Choose the theme and characters
This is the easiest and funniest part. Enjoy it!
Think about the type of adventure you like and that you want your participants to experience. Don't hesitate to imagine the craziest themes!
Some ideas:
A detective driven crazy by one of his investigations
A hungover morning with amnesia in Las Vegas
Students trapped in the Fortnite video game
A dangerous zombie stuck in a post-apocalyptic house…
Look up to your favorite movies, books, and TV shows for inspiration, or even from physical Escape Rooms you've done in the past. Everything is possible!
Choose a universe that you like and know it will guarantee a realistic game. And don't forget: the ultimate goal is to create a challenge and have fun!
Then, write a short story to give context to your game and immerse the players. The way you write should be thoughtful so that the players are interested and understand their mission.
Once you have defined your theme, go on Pinterest or Google Images and search for a dozen ideas of objects and characters related to your theme. This initial list will represent the basic elements and actors involved in your scenario.
For example :
A pocket watch covered in blood and fingerprints for a detective scenario
A mad doctor in a world of zombies
Polaroids for your hungover morning in Las Vegas
Animal tracks for an ecological adventure…
It's up to you, let your imagination soar! And step by step, your universe will be shaped.
Decide what the players' main mission is
Now that you have a theme and characters, you will need to imagine a triggering event and an ending to your Escape Room.
This may seem obvious, but it's often forgotten!
Be creative and avoid the cliché of "prisoners trying to escape from the best kept prison in the country" (seen too regularly).
Examples:
Rob a safe in the house of a rich businessman.
Become a hacker and try to steal the FBI database.
Save the life of someone bitten by a Zombie by giving him or her an antidote.
If this is your first game, and you are designing a printable Escape Room, reduce the scenario to one room. This will help you to keep control of the game.
II. Break down the events in your story into a flowchart!
Write down all the different stages of your scenario on post-it notes and lay them out like a flowchart to represent what is going to happen, where and when. As most Escape Rooms have many actions taking place in parallel, this method will help you stay organized in this important stage of your game's creation.
Each of these Post-It notes will then become a challenge or a puzzle to progress in the game. Now, let's be honest, you'll change your challenges and puzzles several times before you get the right scenario, but you have to start somewhere! 😉
This is probably the most complex part of creating your Escape Room. Turning a simple story into a series of puzzles or challenges is not a simple task.
Choose different colored post-it notes to mark the objects to be discovered or used to advance the story. For example, finding the key to a chest, or deciphering a message. This will help you a lot!
III. Write all the puzzles for your escape room!
Your world has become familiar, and you know what your story is going to look like, the objective of the game and its triggering event.
Now you'll have to think of the puzzles to solve and the challenges to face at each step. You'll see, this is a really fun part of creating your home escape room.
Start by writing a quick description of the puzzle or challenge on each Post-It note in your scenario.
Tip: Pinterest is full of examples of riddles and puzzles.
Make sure that everything is logically connected to avoid an incoherent game with no logic.
IV. Test your escape room!
Now it's time to create the most simplified version of your game which you will test with your friends.
Test the whole game and all the puzzles and challenges with 3 or 4 groups of friends to make sure that everything is logical, understandable, and realistic.
Use the opportunity to time the solution of the puzzles and the duration of the entire Escape Room. Also, make sure you are close to the 30 minutes (to start with).
Once the game and its puzzles are "validated", you can focus on the details and the addition of accessories that will improve your Escape Room.
There you have it, you have successfully completed all the steps involved in creating a home-made Escape Room, well done! Now all you have to do is start the first game!
V. Add immersion to your game!
You still have the essentials of the home escape room, which are important details to bring immersion: the accessories and the decoration!
Several possibilities:
Use Internet (Pinterest or Google Images): search for a dozen ideas of objects and characters related to your theme.
Use free images database (Pixabay or Pexels): you will find nice pictures that can be background pictures or support your facts.
Use creative tools (Canva, Crello, Adobe): create decorative elements or useful objects to make your scenario more realistic. These are simple tools to use!
Examples:
A pocket watch covered in blood,
A mad doctor for a Zombie one,
Polaroids for your hangover morning in Las Vegas,
Crime scene photo,
Police car or other police's accessories…
It's up to you, let your imagination speak. The accessories make it easier for players to enter the game world!
Want to play without racking your brains?
You have successfully completed all the steps involved in creating a home-made Escape Room, well done!
Want to enjoy the game without worrying? Save time with our Escape Kit! Discover our ready-to-use escape rooms kits to do at home, at school or in your company!
What's in a game kit?
Setup guide,
Puzzles,
Accessories,
1-hour countdown and background music
All you have to do is set up and enjoy the game! Ready?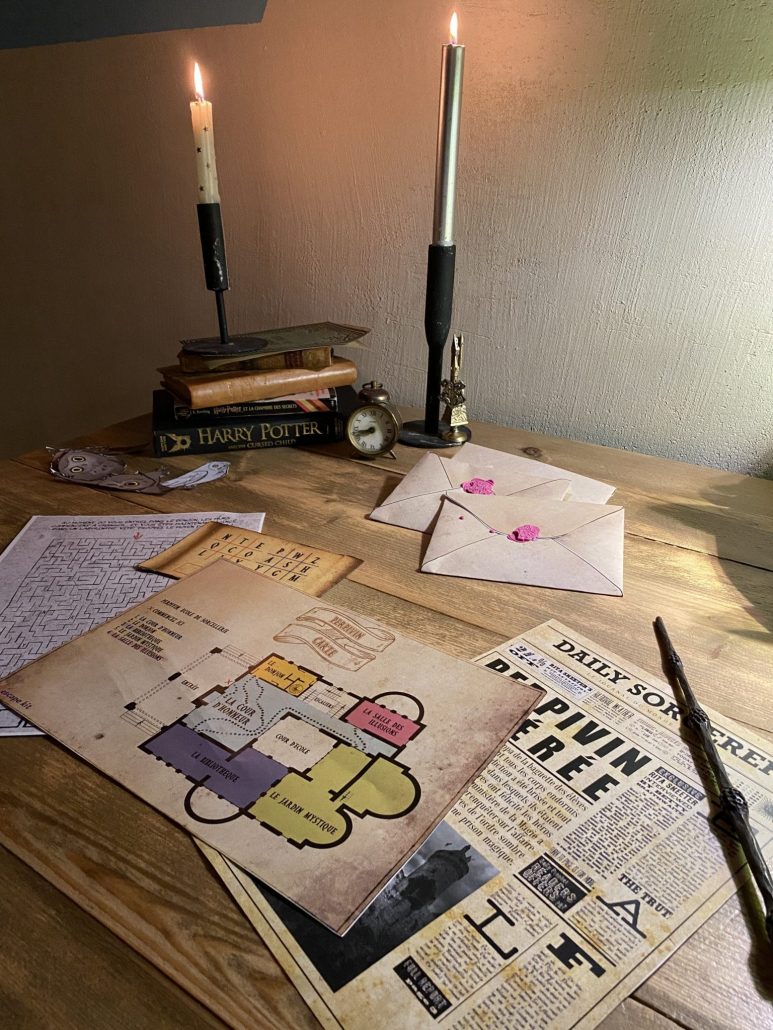 Create your own Escape Room at home!