Holiday treats: Christmas Shortbread cookies, the recipe!
What you are about to discover...
A must-have Christmas treat recipe!
Putting ornaments on the tree, buying last minute gifts, eating holiday meals, decorating the house…. It's time for another exciting race against the clock!
Pssst, how about a sweet break, to take a deep breath during this holiday run?
Our team of gourmands was willing to devote themselves (it was hard, you can imagine lol!) to prepare a quick Christmas cookies recipe, simple and delicious!
Enough talking, when it comes to pleasure, we don't wait, ahah! Let's head to the kitchen 😉
1. The ingredients
130 g wheat flour
20 g potato starch or cornstarch
50 g coconut or wholemeal sugar
1/2 pouch of baking powder
1 tablespoon of vanilla flavouring
1/2 teaspoon of ginger powder
1/2 teaspoon of cinnamon
1 pinch of nutmeg powder
1 pinch of salt
1 egg
50 ml melted coconut oil (or other oil like hazelnut)
Glazing: 1 egg yolk + a bit of honey or agave syrup
Edible garnishes: stars, hearts, pearls, sprinkles.
Note: you can substitute the spices with a gingerbread mix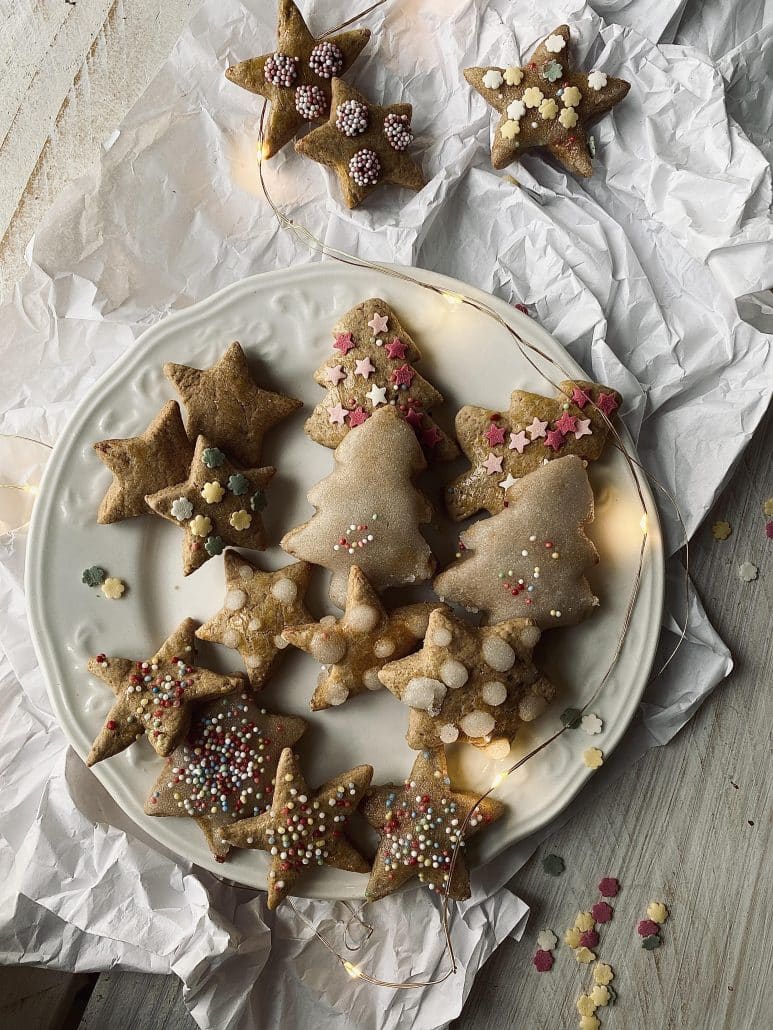 2. Cookie preparation
In a bowl mix; flour, cornstarch, vanilla flavouring, coconut sugar, baking powder, spices, and salt.
Add the egg and the melted coconut oil.
Using a wooden spoon, mix all the ingredients and then knead the dough.
Form a ball and wrap it with cling film.
Keep the dough in a cool place for 1 hour.
Sprinkle your work surface with flour and roll out the dough with a rolling pin (about 3 to 5 mm thick).
Preheat the oven to 392 °F (ca. 200 °C) and line a baking sheet with baking paper.
Shape the cookies with your cookie cutters by gently removing them. Place on the baking sheet and repeat until you run out of dough.
Brush the cookies with the glazing mixture: one egg yolk and a drizzle of honey with a brush.
Arrange your edible garnishes on the cookies.
Bake for 10 to 12 minutes.
Remove from the oven and let it cool for 5 minutes before eating.
Your little Christmas Shortbread cookies are ready to be served! It's also a great idea for table decorations or small personalized and tasty gifts for your loved ones.
Are you looking for fun Christmas activities or animations to do during the nightcap? There's nothing like racking your brains with a fun Escape Room to do with your family!
One hour of adventure and then it's time to enjoy the Yule log before Santa Claus arrives, hehe. Do you like these cookies? Leave us a comment!