Things to do when bored for kids
What you are about to discover...
Fun activities to do when bored!
Vacations, weekends, Christmas, Easter, rainy days… We are constantly looking for new activities to offer the little ones to avoid boredom! What does "boredom" mean? It's a feeling that you get when you can't find something to do, or when you can't find enough interest to do something. Moreover, it is not always easy to find original and cheap activities.
Parents, nannies, babysitters, uncles, aunts, tatas, grandparents, you are in lack of ideas? No more boring days! Escape Kit has put together a list of the best ideas for creative, craft and sporting activities to keep your kids busy. 
Ready to arm yourself with all kinds of activities to beat boredom? Let's get started!
I. Organize craft activities!
Psst, you love creative activities? Kids love them and so do we! Crafts keep kids busy and allow their creativity and imagination to run wild. It's also a good way to learn while having fun. 😉 Little wolves love to discover new activities. 
Creating something with their own hands is a great way to keep kids busy while developing their skills such as concentration and motor skills. Moreover, this type of activity allows reinforcing the bonds with the adults 😉 
So let's go and discover all our ideas that are sure to please! Crafts, DIY, easy recipes for kids…
Here are some of our suggestions for craft activities:
Painting: fingers, brushes, sponges, anything goes! 
Invite your kids to a painting workshop! For example, paint a tree using your hands and fingers! Momooze shares his idea with us.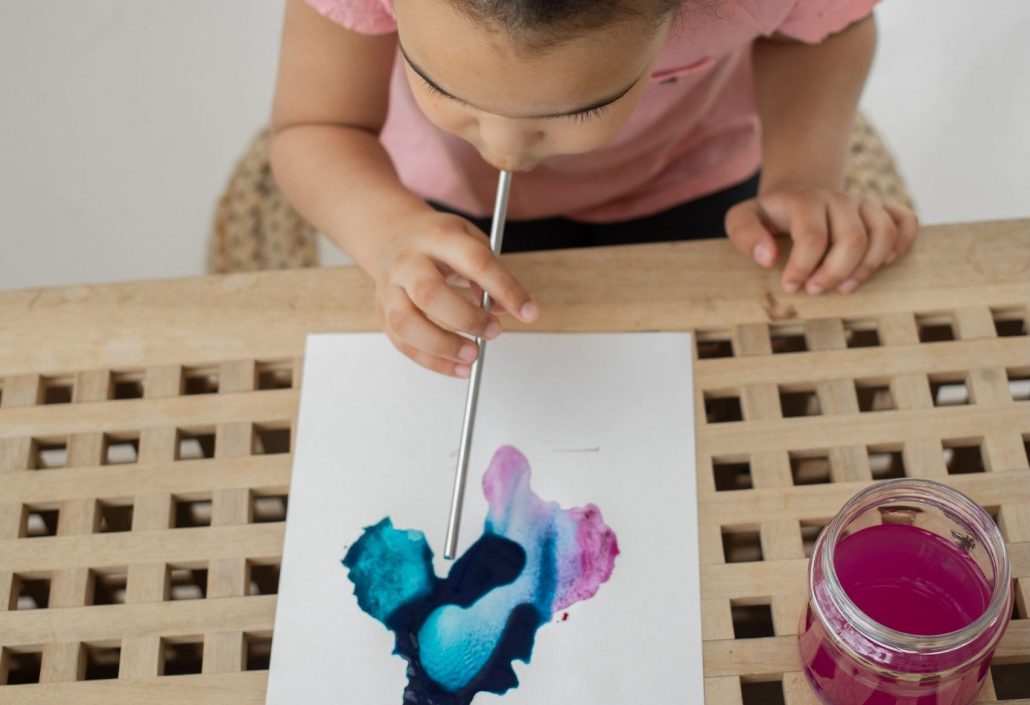 You can also go for a walk in a park or garden and collect some leaves to create a work of art with the prints of the leaves!
Discover also how to create beautiful stamps with a sponge and paint. A creative idea to do with kids and adults!
Cooking: are you as greedy as we are? Let's go for a cooking workshop with your little heads! Pancakes, shortbread cookies or preparation of mini pizzas. Your children will love to cook with you. Get your aprons!
Folding: origami flower, paper animals… Psst, check out all the tutorials available on Pinterest! It's a goldmine for finding the best folding ideas! An activity to relax with the kids. 🙂 
Gluing: tree leaves, flowers, wools, fabrics, stickers, glitter… kids will love it! A craft activity that develops the dexterity and concentration of our little ones.  What do we do all day, shares with us 5 easy to do collage activities!
Modelling: salt dough, modeling clay, pottery, they will love to form men, houses, flowers, animals with different materials. Perfect activities to work on motor skills!
Active Creative Bees shares with us a fun video to work with modeling clay. 
Create: superhero masks, princess crowns, knights' swords, paper garlands, invitation cards… Hey, let's go for a costume party! And why not complete this evening with an Escape Room? Choose your favorite creation and go on the adventure of your choice! 
Coloring: are you looking for a zen activity to let your mind escape for a break? Let's go for a coloring session! A must-have that is sure to delight the kids!
II. Doing outdoor activities!
The nice days are back, and the sun is shining? We declare the picnic season open! It's time to think about outdoor activities to keep the little ones busy. Organizing outdoor activities is essential for health! The goal? Keeping busy and exercising, hehe! The outside world is full of surprises and curiosities. A simple walk can be rich in novelties between the discovery of nature, the meeting of certain people or the possibility of observing animals, a great way to fight against boredom in children! 
Most of the activities we mention in this article can be done outside, but there are of course specific ideas that we want to highlight.
Here we go to discover the best games to do outside with the little ones and the big ones!
1. Nature walk or hike
Going on a nature walk is a fantastic way to get little ones active and out of their boredom.
You can spot wildlife (like bird watching), pick up rocks and leaves you find along the way, or count the number of types of plants you see! It can also be helpful to connect children with their natural surroundings.
2. Visit a new neighborhood
What if we told you that you don't have to go too far away to discover new things and enjoy the outdoors? Hehe, it's time to discover the neighborhoods around you! Sunglasses, comfortable shoes and you're ready for a nice walk.  It's time to explore more urban environments with the kids. Discovering a new neighborhood in the city where you live is sure to please the little ones! A way to stretch your legs and enjoy a little ice cream?
3. Organize a picnic
When the sun comes out, there's nothing like a picnic! A tablecloth, chips, cherry tomatoes, carrot sticks, fruit, bread, ham, cheese, candy, good mood… and off to a park, a public garden, a forest, the beach, or even just your backyard!

The simple things are often the best, they say. 😉
4. Playing games
There are many games you can play with your children. Some games are more focused on thinking and mental activity, while others are focused on running or other physical activities.
Here are our top favorite games:
Organize an outdoor Escape Room: a mix between treasure hunt, riddle, and puzzle! A creative and fun activity for young and old. Choose your favorite adventure and transform a park, garden, forest, or campsite into an unforgettable adventure!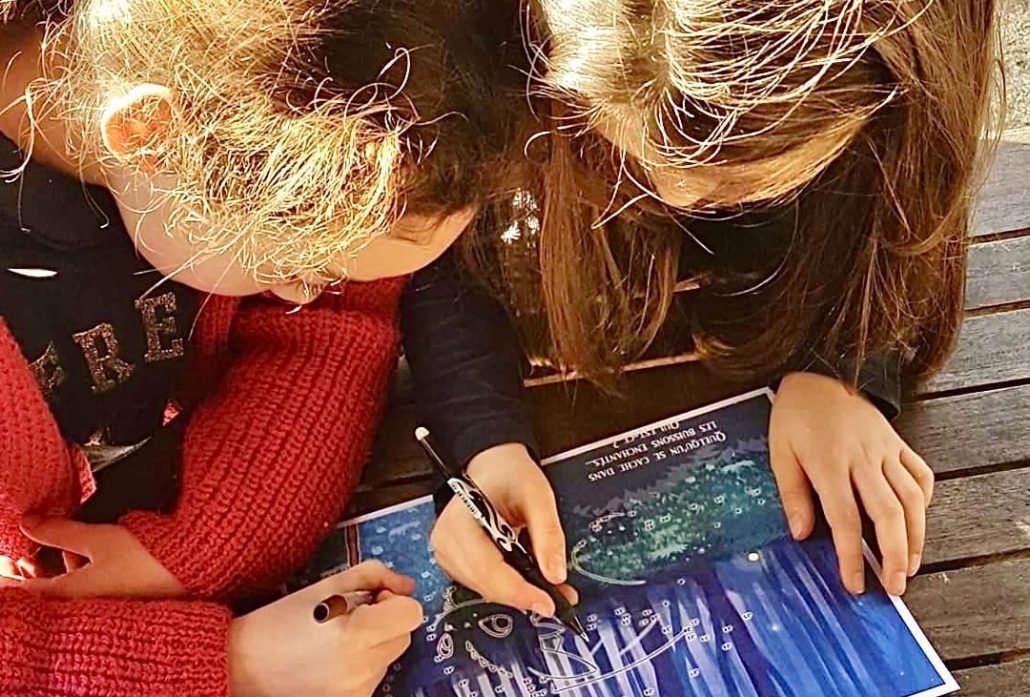 Board Games: The appropriate type of board game depends on the age of the child, and there is a very wide selection on the market!
The classics: Uno, Cluedo, Monopoly…
The most fun: Twister, jungle speed, mime game.
Sports games: An activity to do with little ones and which allows them to blossom while participating in their physical and intellectual development. Choose their favorite sport and start playing. Have fun while exercising, it's possible thanks to the essentials such as cycling, rollerblading, dodgeball, soccer, tennis, badminton, ping-pong, Frisbee… An infinite number of possibilities to have fun as a family while doing sports. 🙂
Here are some fun and easy to set up activities:
Hopscotch: a timeless game!
Jumping rope: enjoy the good weather with your children!
The rubber band game
1, 2, 3, soleil: Lingobox Learning, shares with us how to play this popular french game.
Dodgeball: Who will be the best at dodging the balls? It's your turn to play!
Hide and seek: our favorite and also the kids' favorite 😉
Riddles: a popular and easy game to set up at any time of your day? A walk, a drive, a stroll… It's always a good idea to play guessing games! 
Playgrounds: the perfect activity to do anytime and for free! Looking for a free activity to keep your kids busy? Go on an adventure in a park in your city and let the little ones have fun in a playground. Perfect for making new friends 😉
III. Use your imagination!
Children's imaginations are often overflowing. Pretend play can also be a great way to escape boredom! Keep in mind that the success of this activity depends on the age of the child (and their level of imagination). To develop your children's imagination, there is nothing better than an escape room at home!
Are you in an adventurous mood and want to try something out of the ordinary? We can only recommend Escape Rooms to do at home! Indeed, Escape Rooms are now coming to your home thanks to the Escape Kit concept "Print, install, play!" A clever mix of board game, treasure hunt and atmosphere game. An ideal cocktail to fill the boredom of children!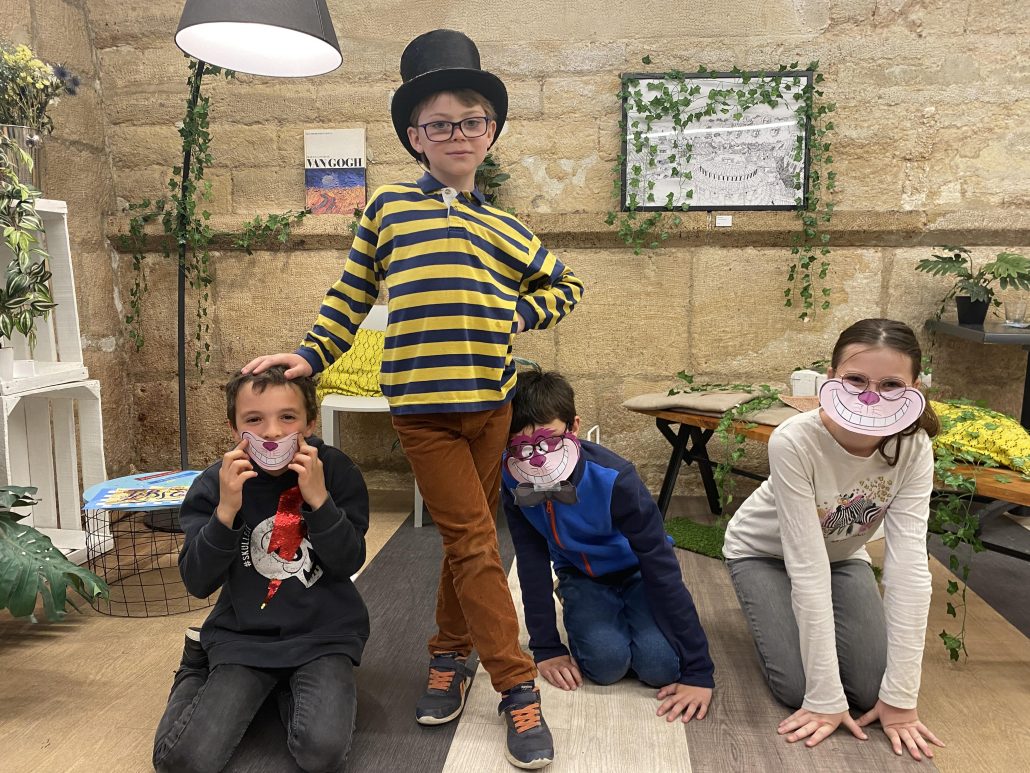 Take them on a new adventure, such as magic, pirate or even Alice in Wonderland, there is something for everyone!
IV. Learn something new!
Learning new things helps to awaken children's curiosity and feed their thirst for discovery.
There are many learning opportunities that can be incorporated into multiple activities, like those suggested above. Here are some ideas for more advanced cultural and educational activities to stimulate learning while keeping them entertained.
Visit a museum or historical site.
Do a science experiment.
Do an educational DIY project (e.g., phases of the moon).
Read an interesting book together.
Grow a plant.
We hope that this article will help you to keep the children busy in order to cope with their boredom with original and easy to do activities.
Do you have other ideas for activities? Share them with us to help parents, nannies, and babysitters! Leave us a little comment. 🙂