Top activities to do with kids during Easter!
Fun Easter activities for kids & family
"Daddy, when is the Easter bunny coming?" Between chocolates, Easter egg hunt, small basket full of sweets, happy family moments… We love this delicious Easter weekend of spring. By the way, it's a good question, when will Easter 2023 take place? This year, Easter will be celebrated on Sunday, April 9. We are so excited about this day to come!
This event is usually the occasion to meet the whole family around a delicious home cooked meal and a little Easter hunt, which our kids are excited about. Easter will be on a Sunday, and as parents, we have to find activities to entertain our little wolves!
Manual activities, easy Easter DIY, cooking… How can you keep your kids entertained during Easter break?
We will share with you some cheap Easter activities ideas, easy and quick to set up with your children during this lovely celebration.
I. An Easter ornament
This friendly and gourmet celebration, which a lot of people love, is mostly awaited by the children.
Let's take advantage of this family day by spending time all together!
Are you a teacher?
Those fun Easter activities can also be craft ideas for kindergartens or primary school children, to do in class before Easter.
Let's start with ornaments, ideal to immerse children in the theme! Let's have a memorable Easter weekend!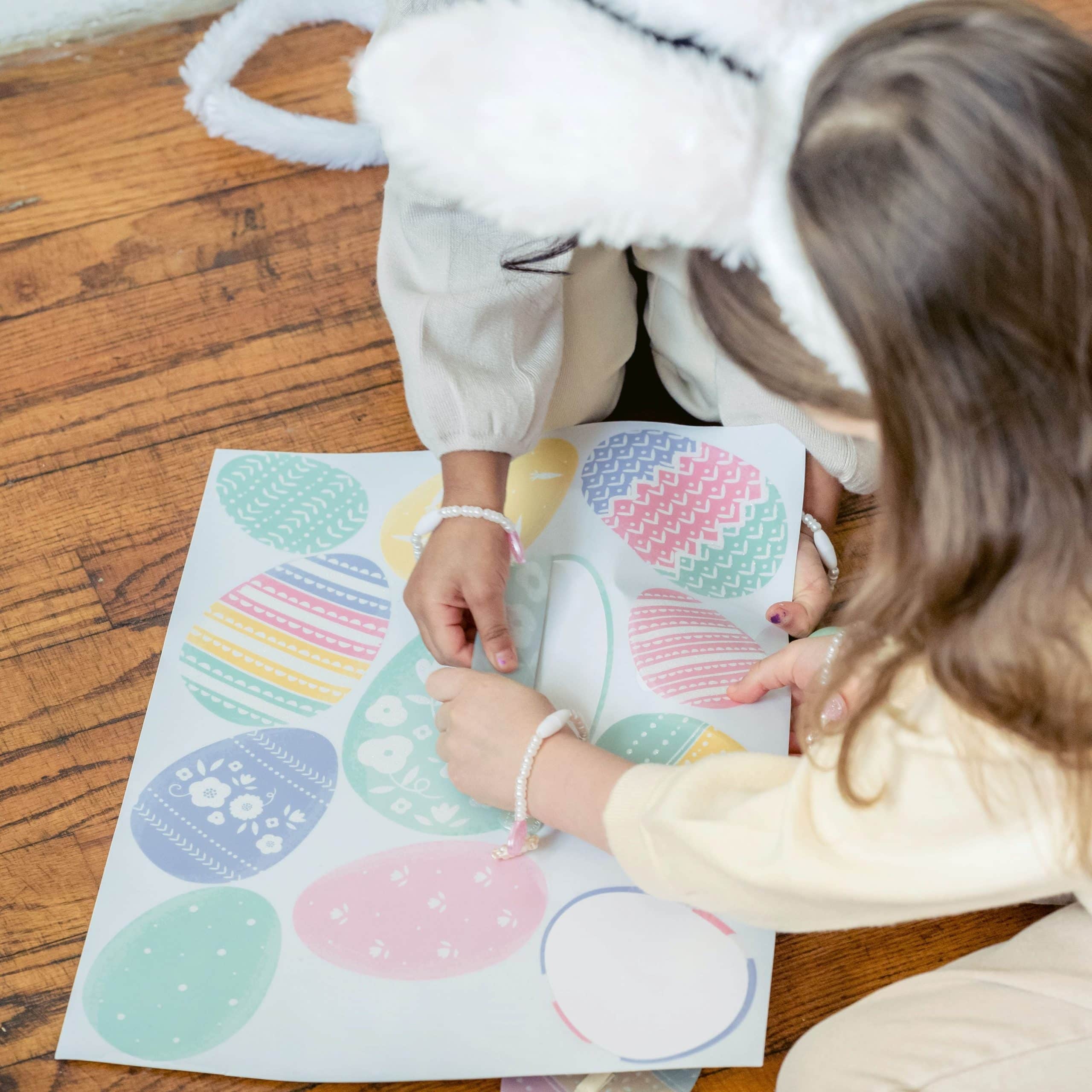 1. A fun and DIY Easter bunny face mask
Fun and easy to create, we think that this face mask will make you all fall in love! A fun and easy DIY to do.
You will need:
1 White cardboard sheet
Cotton balls
Pink chenille yarn
1 Elastic
Pink paint
1 Paintbrush
Glue
Steps to charge it :
Draw a bunny head shape and then cut it out.
Paint the inside of the ears in pink.
Glue the cotton balls all around the mask.
Paint the nose in pink.
Add some moustaches to the bunny with the chenille.
Finally, make a small hole on each extremity of the mask in order to put a piece of string in it.
Put the mask on and let's run to the Easter Egg Hunt!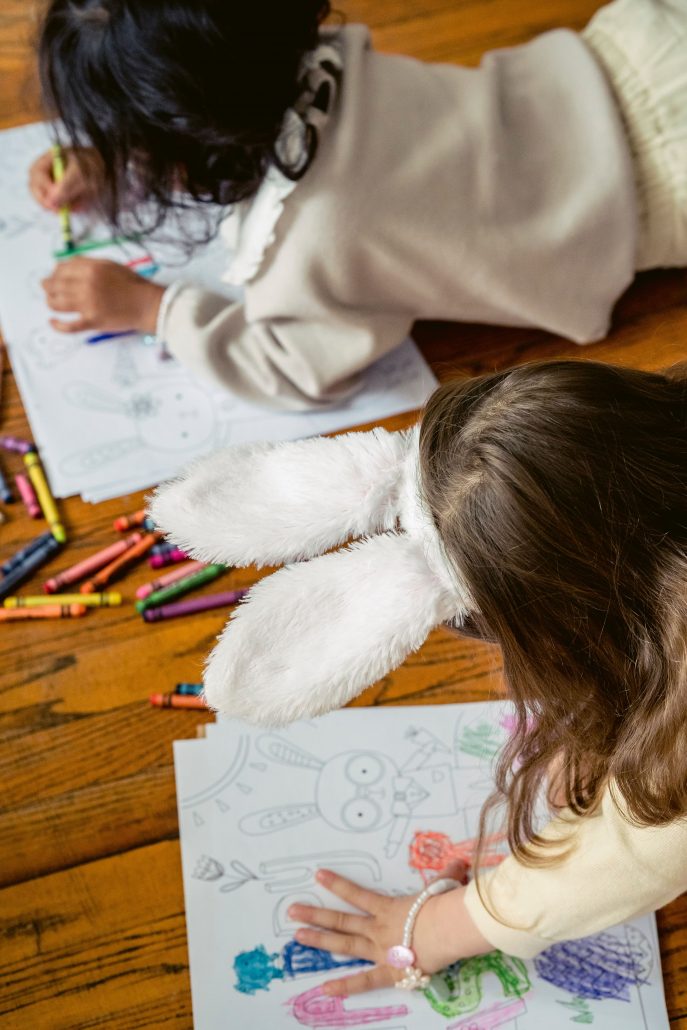 You can also download for free our printable Easter bunny mask and customize it as you and your children like.
Psst, discover the Easter riddle too!
If we had to choose a manual and soothing activity which is always liked, it would definitely be drawing.
Let's invite your little ones to make an Easter drawing! You'll find numerous ideas if they lack inspiration on how to easily draw an Easter bunny or even Easter eggs.
2. A must-do activity: painting Easter eggs
If there's one Easter manual activity which is a must-do for our kids, it is definitely creating DIY ornaments on Easter eggs! It's an easy Easter craft to do, with things you already have at home!
Fiesta4U explains us in this video how to easily empty an egg, without breaking its shell!
Now that your eggs are empty, equip yourself with paint, stickers, glitters, fake feathers… Everything you'll need to customize your art project. You're ready for an easy DIY Easter activity!
Our tip: keep the rest of the egg to bake a cake or cook an omelet for dinner!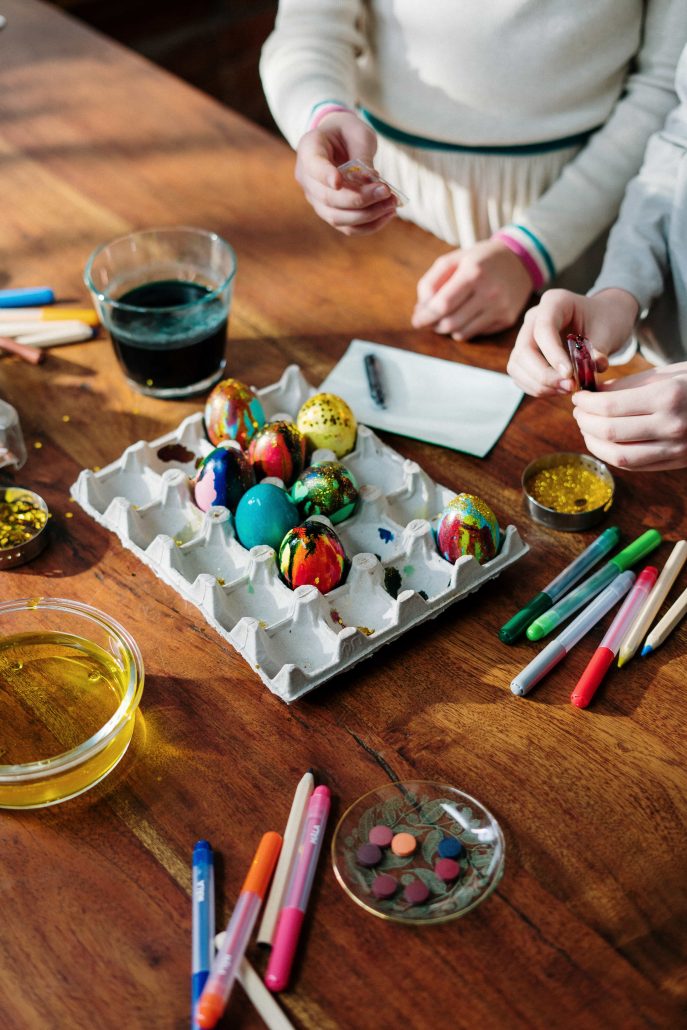 3. Create a life-size Easter egg!
Dear parents, you will have to take part in this activity! You can create your own life-size Easter egg with your little wolves to decorate your home or your garden.
You will need:
Paper towels or newspaper pages
1 Bowl
2 Water cups
2 Flour cups
1 Paint brush
1 Balloon
Afterwards, they'll be able to decorate the egg with their own inspiration!
Our tip: You can gently cut the top, like a lid, and fill the egg with cotton or wrinkled paper. Place some sweets in it, and hide the egg for the Easter egg roll! You'll only have to lay the egg in the house, or in the garden if you have one! Psst, it's the time when you have to trade your parent's costume with the bunny one!
II. A yoga break to ease the Easter excitement
After all those manual activities, the kids will be probably over-excited by the arrival of the Easter bunny!
What if they take a calming activity break? A nice, rhythmic yoga session, with a wonderful Easter-inspired background. Hurry up, take a yoga mat and enjoy 30 minutes of well-being as a family!
III. An original Easter hunt with an Escape Room!
This is the time everyone was waiting for: the Easter Egg hunt!
Impossible to hide away from it, your little ones will ask over and over again for the Easter Bunny.
What if this year, you decide to plan an Easter egg roll, in the scavenger hunt style? With a turn-key escape room from Escape Kit, your kids will have to rack their brains before finding the treasure they've been looking for.
Between the princes and princesses world, the superheroes, Harry Potter or even The Little Prince, this Easter egg hunt is going to be original and memorable!
They will love to travel through the world of their favourite characters to find a surprise at the end… The sweets!
Thanks to a complete kit which contains:
A set-up guide to help you prepare the game
Clues
Accessories (diplomas, invitations, decorations)
A background themed music with a countdown
It's a fun one-hour adventure that awaits them!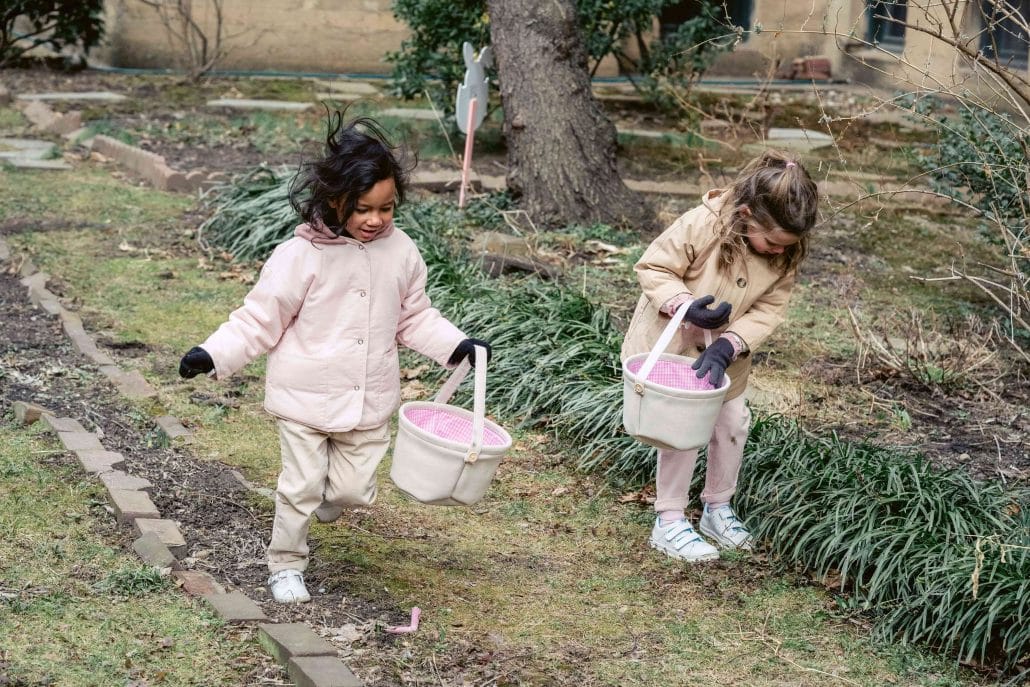 Infographic – How to organize an Escape Room for Easter?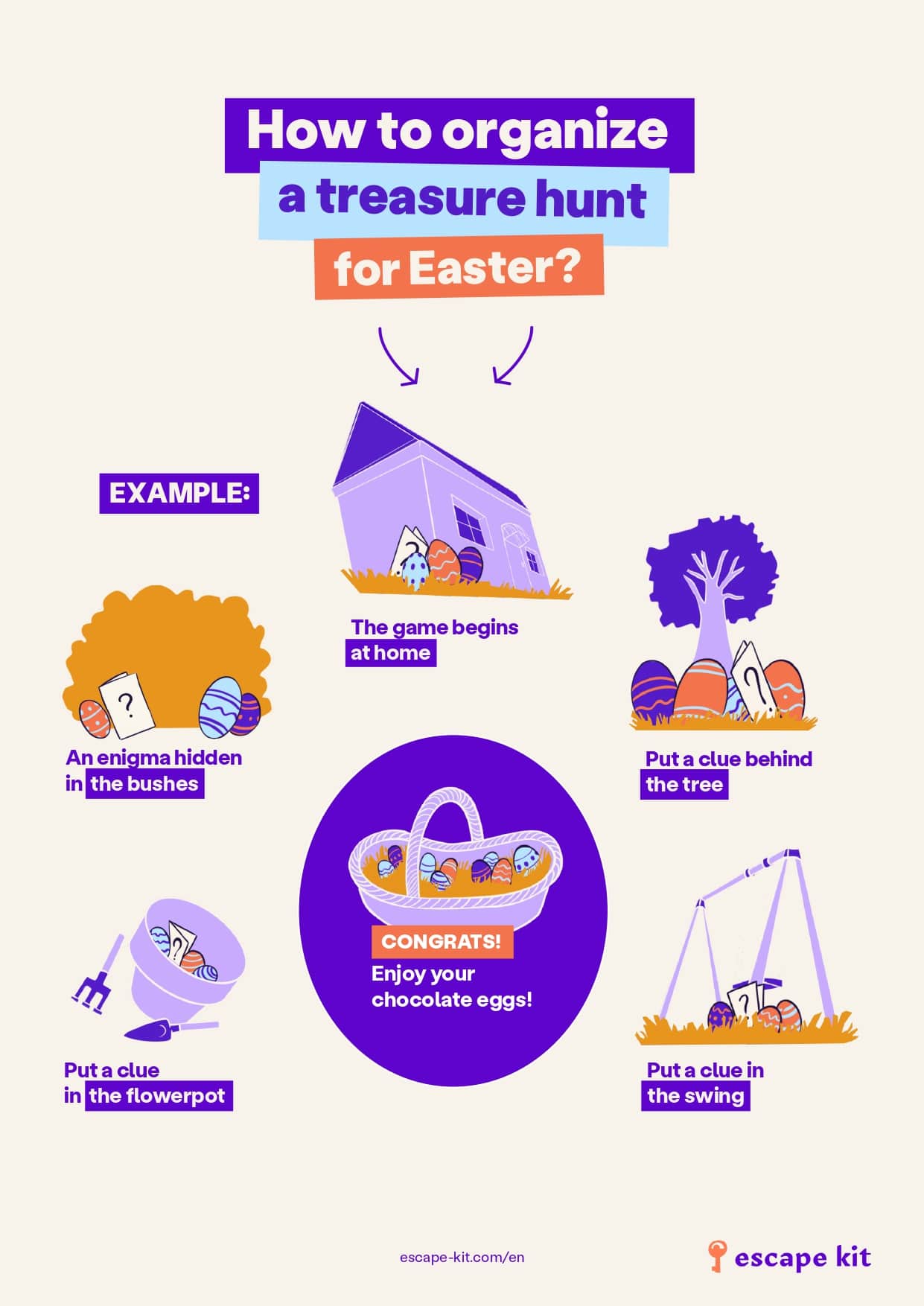 IV. Easter sweets
What if we prepared a little dessert or a snack? After the Easter egg hunt, the sweet break will be very much earned! Before eating all the chocolates, they will surely appreciate a piece of cake! 🙂
1. Recipe of the best Easter cake ever
The best Easter egg is the one you will bake with love with your little wolves. A friendly cooking workshop with the whole family, which will create wonderful memories.
In order to do that, take their favourite recipe: yogurt cake, chocolate fondant, pancakes…
You can add a festive touch with food colouring, decorations in sugar paste, edible confetti, little chocolate eggs, powdered sugar, and everything that pleases you!
You don't know which recipe to bake? BBC Good Food or even the website Delish proposes lots of recipe ideas to bake some incredible Easter sweets. You will surely find your happiness over there!
2. Chocolate potholes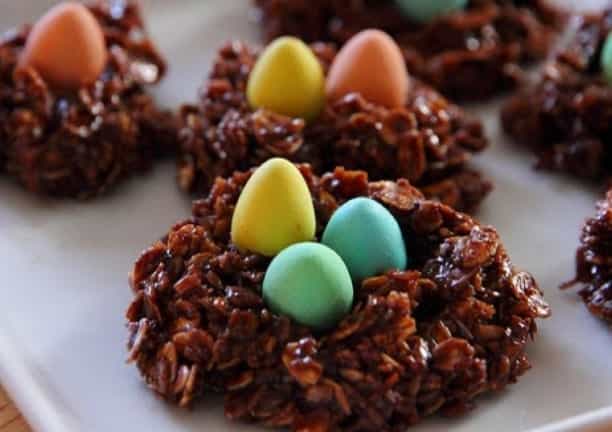 You're looking for a healthy, easy and tasty Easter recipe? You can bake chocolate potholes!
It's sand roses, but prepared as a pothole in order to place little Easter eggs in it for the occasion.
Let's share a tasty moment with your kids by creating this unavoidable recipe, easy and delicious.
Preparation time: 25 minutes
Quantity: 15 sand roses
Ingredients:
150 grams dark chocolate
100 grams butter
170 grams cornflakes
Small chocolate eggs
Crush coarsely the cornflakes and let it sit for later.
Melt the butter and the chocolate on a low fire, and don't forget to stir.
Turn off the fire and pour the mixture on the flakes.
Mix well and then form a little nest on a plate covered with baking paper.
With the help of a spoon or your finger, shape a little hole in the center.
Place in the fridge for at least 2 hours.
When it's time to serve, place the little chocolate eggs in the hole!
Your nests are ready to be eaten!
BONUS: How to create and decorate your own Easter eggs?
We hope that you liked this article, and that our Easter break activities will be useful!
Those activities ideas will keep your kids busy, and you can even plan some of them before the D-Day, in order to entertain them every day before Easter day. The team will be pleased if you share with us your own activities ideas, let us a comment down below! You can also share your creations with us at contact@escape-kit.com.