How to organize an Escape Room for Halloween?
DIY Halloween: Fun Halloween Activities
Looking for a little thrill / things to do for Halloween? As we slowly but surely enter the spooky season, we all want October 31 to be the scariest holiday… How about throwing a Halloween party with your loved ones? Creepiness and Goose Bumps are the main ingredients for a wickedly fun October evening!
Discover our cheap & easy DIY Halloween decorations. Both children and adults are going to be amazed. 😉
I. Scary Halloween Invitations!
How many muggles will you be cursing? Before you carefully prepare the party, consider making a small guest list to help you with the organization. This allows you to plan enough small treats to nibble on, for example!
Enchant them before the big day with a mysterious Halloween invitation.

How to make scary Halloween invitations? Let's get creative! Black, orange, purple, red… the classic colors will be part of the party to introduce this evening that promises to be… devilish!
Need some inspiration? Choose one of our ready to send invitations on various themes: investigators, magic, or horror! And to scare your guests even more, you can add scary spiders in the envelope. Unreal, of course! Or real… As you wish! 😉
II. The activity: a scary Escape Room
Now let's move to our leading activity: the Escape Room!
If you feel creative, you can create your own Escape Room from A to Z, but this can take you a lot of time, creativity, and organization.
To make things easier, you can select one of our ready-to-use Escape Room in order to fully dedicate yourself to the decoration and cocktails (oops, rather the snack for the children). 😉
Print, set up and go with Escape Kit! Choose one of our adventures for kids, teens, or adults.
1. Halloween activities for kids: A curse at school !
Are you organizing a party for your child/children with some friends? Invite them to dive into the fascinating world of Harry Potter for a very important mission: save the school from a terrible curse. They will have to break the curse with the help of a magic wand in less than an hour!
Will the apprentice witches rise to the challenge?
Turn your house into a wizard school and head for the magic!
2. A detective adventure with a mysterious murder
What if you were investigating Mrs Thompson's murder ? Challenge yourself with an enigmatic puzzle! The victim was killed while a party was being prepared at the Manor… Who could have committed such a horrific act?
A few fake blood drops or some delicious Ketchup, a crime scene tape, some terrifying accessories… You will love solving this case with friends or family!
The little extra? Even the organizer can participate!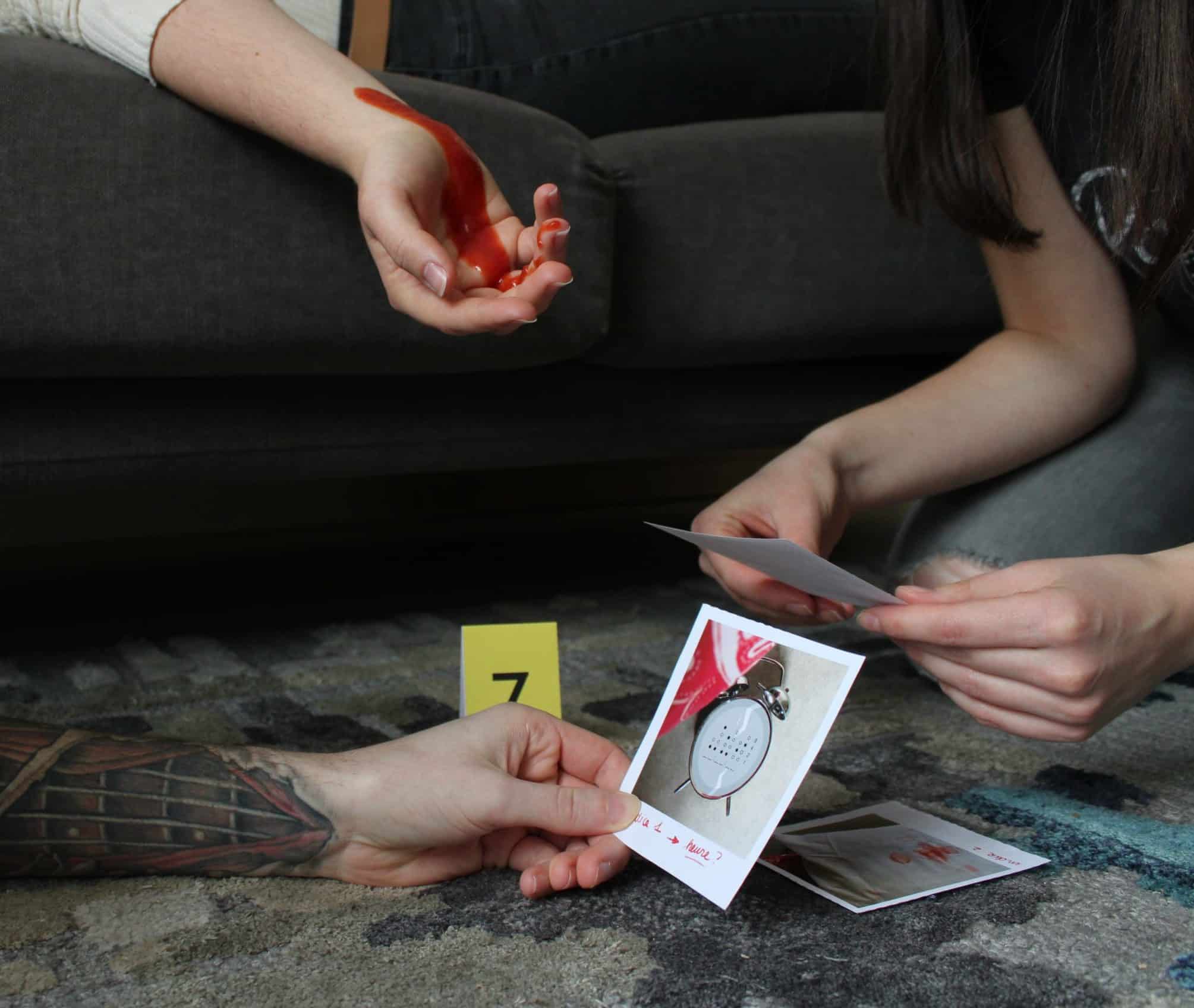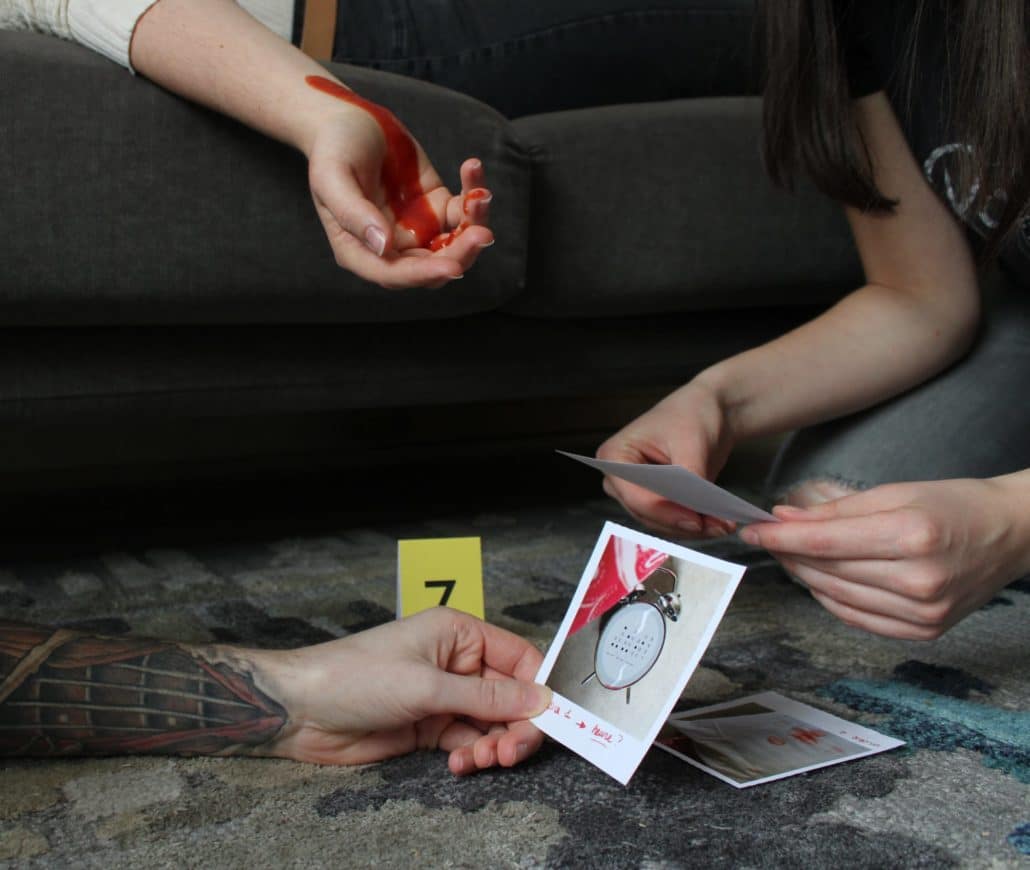 3. A mysterious puzzle to solve in the depths of horror
Looking for a more chilling story? Try to solve the mystery surrounding the suspicious deaths of the Miller family! 😉 An ideal Escape Room for a horror themed evening!
This little moment with friends will be punctuated by paranormal phenomena: flickering lights, doors that suddenly close… Even more disturbing, shrill screams that seem to come from the basement… Summon up your courage and solve this mystery! Will you dare to enter?
4. The Escape Room that will make you shiver!
Psst! Our Escape Rooms at home are made to play with as many players as you want. The more, the merrier!
Find our tips to organize an Escape Room in large groups! 😉
III. How to organize your Escape Room for Halloween?
Have you chosen your Halloween Escape Room? Kids and adults alike will love this original activity. Let's make the experience even more immersive!
During the digging and inspection of the scene, the whole house becomes a giant playground.
To create a terrifying atmosphere in any room, let your imagination run wild and use whatever you have around you!
Here are some tips on how to transform your house or apartment that will make guests shiver.
1. A decoration that will make Dracula blush!
The decoration is E-SSEN-TIAL to immerse players in the Escape Room world. The more rooms you decorate, the more fun you have!
A few fake spiders, ketchup or tomato sauce stains, small candles… Use whatever you have on hand to set the mood.
Every room in the house can have its own little tricks from the greatest horror movies. 😉
Take advantage of the decoration to hide Escape Room's clues! 😉
The living-room: place of all manifestations
Your guests will likely spend time picking through the clues in the living-room, so the atmosphere must be Luciferian!
Fake webs and scary spiders, skeletons, pumpkins… Have fun! Your creativity will be your only limit.
You can also change the pictures of your frames with disturbing ones : could it be blood stains (of ketchup hehe) on the picture? What is that shadow behind the grandfather? Why is this picture torn? We already have goosebumps…
Little extra: do you have a smoke generator? This is the opportunity to bring it out to immerse the guests even more in this haunted house!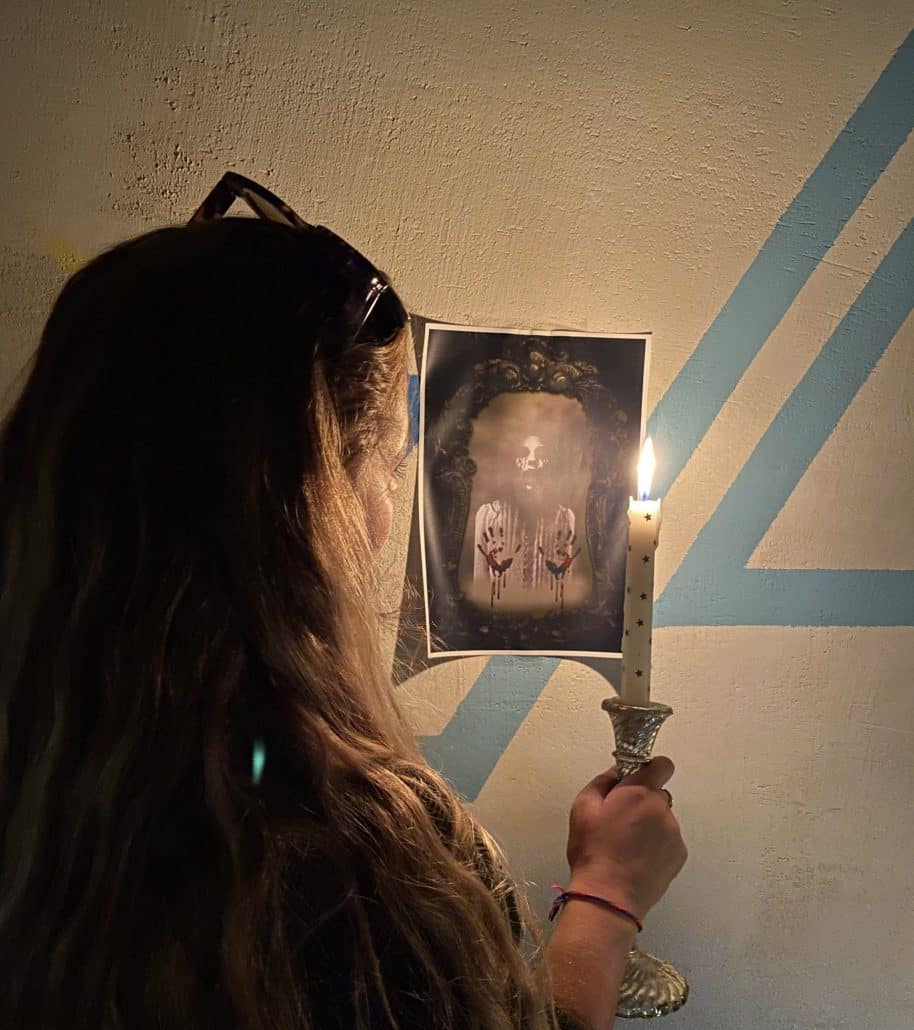 The kitchen : Witches' Den
In the kitchen, spice, flour or sugar jars can be replaced by jars with suspicious contents: fake ogre fingers, fake snakes, devilish drinks! Pots and pans will be replaced by witches' cauldrons and recipe books by the grimoires of ancient magicians. From there, you will be able to serve your magic potions and bewitched snacks.
The garden: a graveyard for Zombies?
If you have a small garden area, take the opportunity to arrange it too! Before putting up the Christmas decorations, place a few half-buried skeletons, a few lanterns, and of course, pumpkins with smiling, spine-chilling faces. Spirits can also join the party! Hang white sheets, which will blow in the wind… Boo!

Trick or treat? Keep a small bowl of candy near the front door, to reward the kids (or even the gourmands!) for their bravery. 😉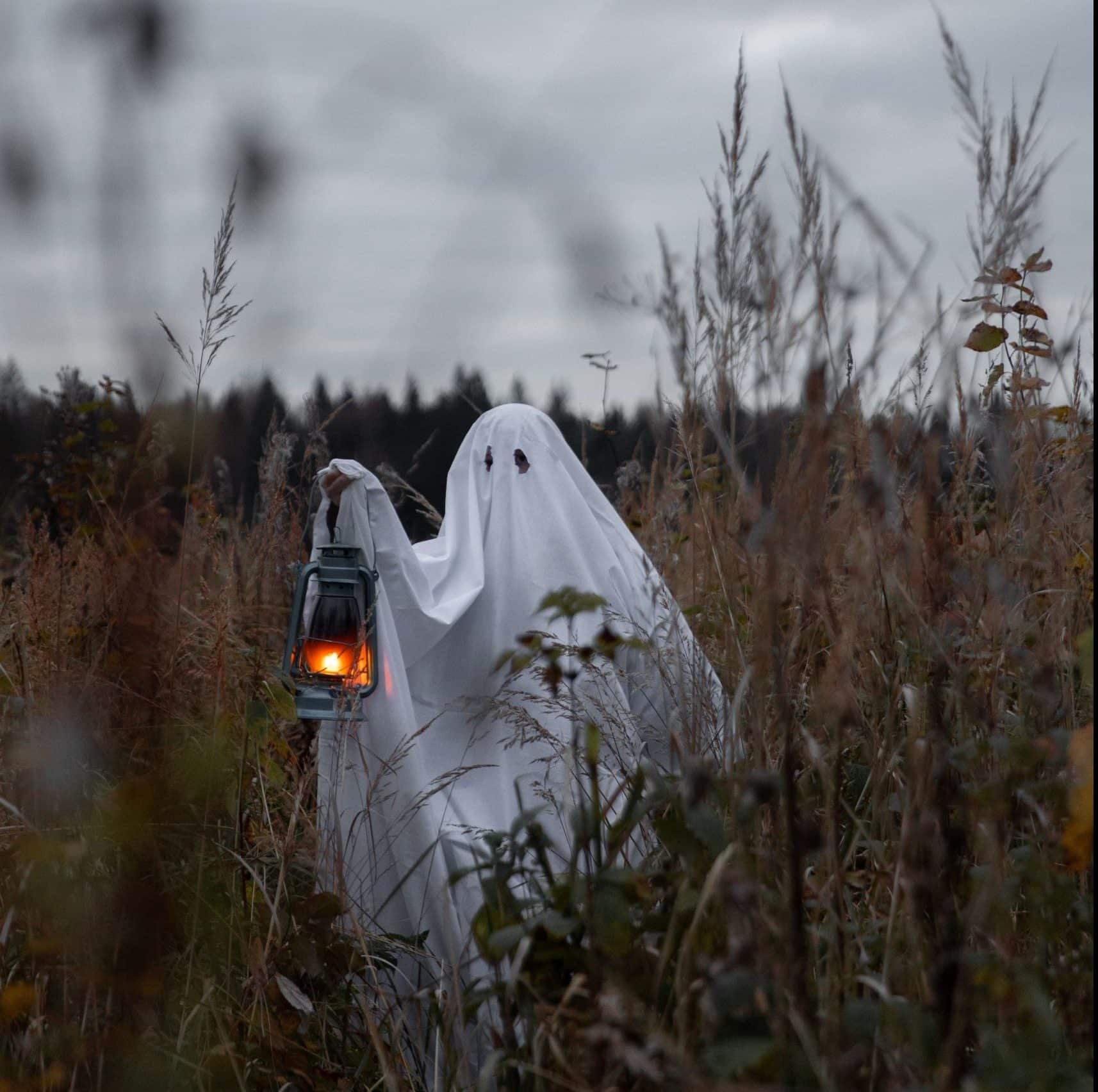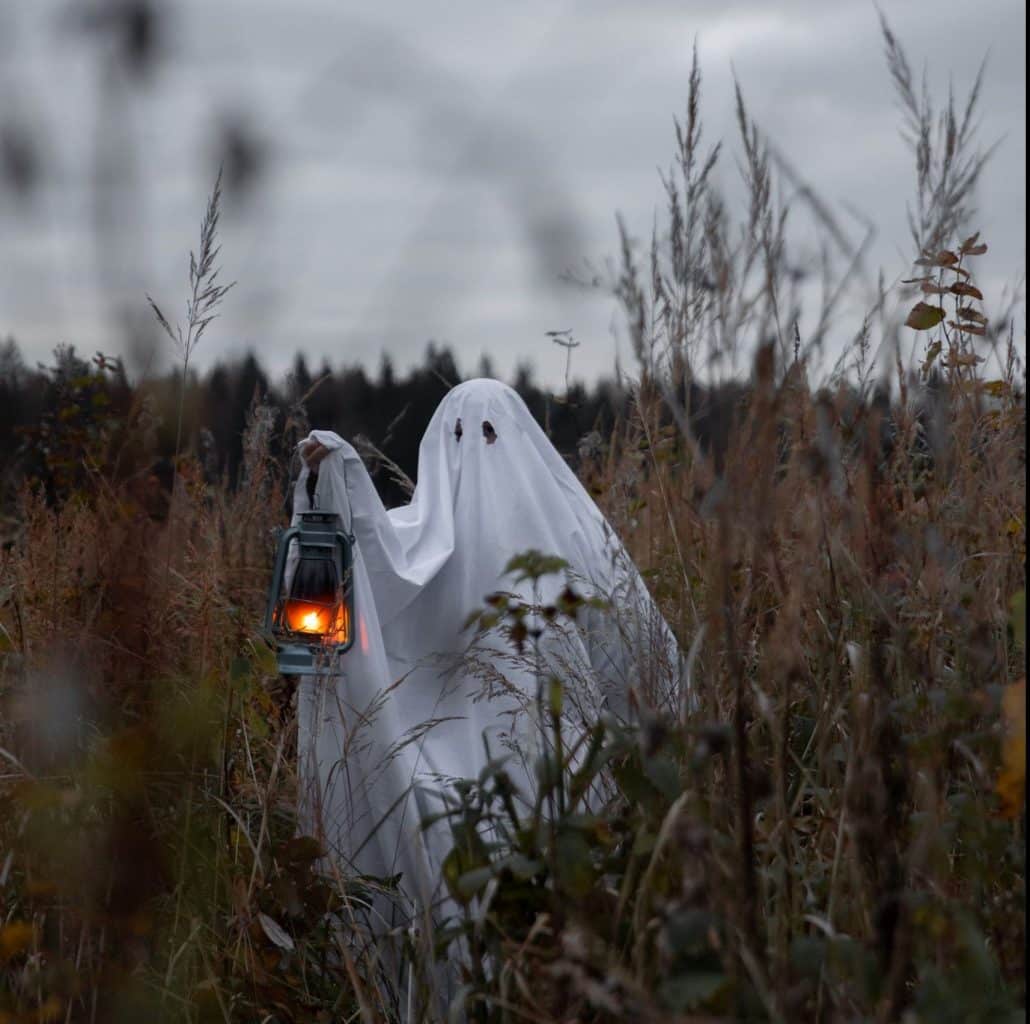 The basement: a terrifying room!
Doesn't the mere idea of the basement make your hair stand on end? It does to us!
If you're hosting a party for teens or adults, now is the time to use your basement to scare them.
It may already be occupied by spiders, in which case there's no need to add any more to it at the risk of traumatizing the most sensitive ones (oops!).
In horror movies, lamps and ceiling lights often turn off and on suddenly… So avoid this and plunge the house directly into darkness! Prefer subtle lights such as table lamps, a few candles or lanterns for a successful spooky atmosphere.
In the dark, guests will be confused by the simple fact of being in it… We hope they are tough, hehe.
2. Halloween music
And to perfect the atmosphere, what's better than a horror playlist? Ideal to add more realism to your Halloween party!
On the internet, you will find a wide choice of music and sounds to create your playlist.
Lack of time or inspiration? We've created a ready-to-use one-hour playlist for you, with a horror theme!
Suspicious noises, distant screams, punctuated by ringing bells… Your house will sound truly haunted! The shrill cry will announce the end of the Escape Room. If you hear it, you'll be trapped in this house forever…
3. One-hour blood-curdling horror countdown!
4. The costumes: which character will you play?
The list of courageous people is fixed, the menu is ready, and the Escape Room is chosen. Now it's time for the action!
What if everyone dresses up? Prepare a few items for the guests to play with.
Little trick: for all of our Escape Room Kits, your printable Halloween decorations are included!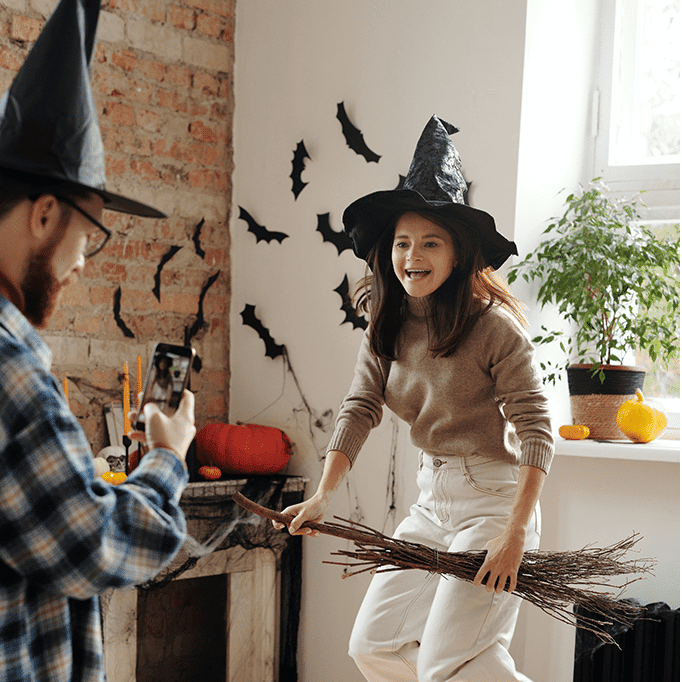 IV. A devilishly tasty meal!
1. The crazy doctor's drink
Looking for an original drink for your guests? Become the crazy Doctor and have fun creating a terribly refreshing drink.
To personalize and color the drinks with or without alcohol, choose a syrup, like grenadine, mint… 😉
Idea 1

: Present your cocktail in a plastic syringe and place it in a bowl of ice cubes.

Idea 2

: Make a cocktail, with or without alcohol, with lychees and grenadine.
Simple and effective, these presentation ideas will be a hit!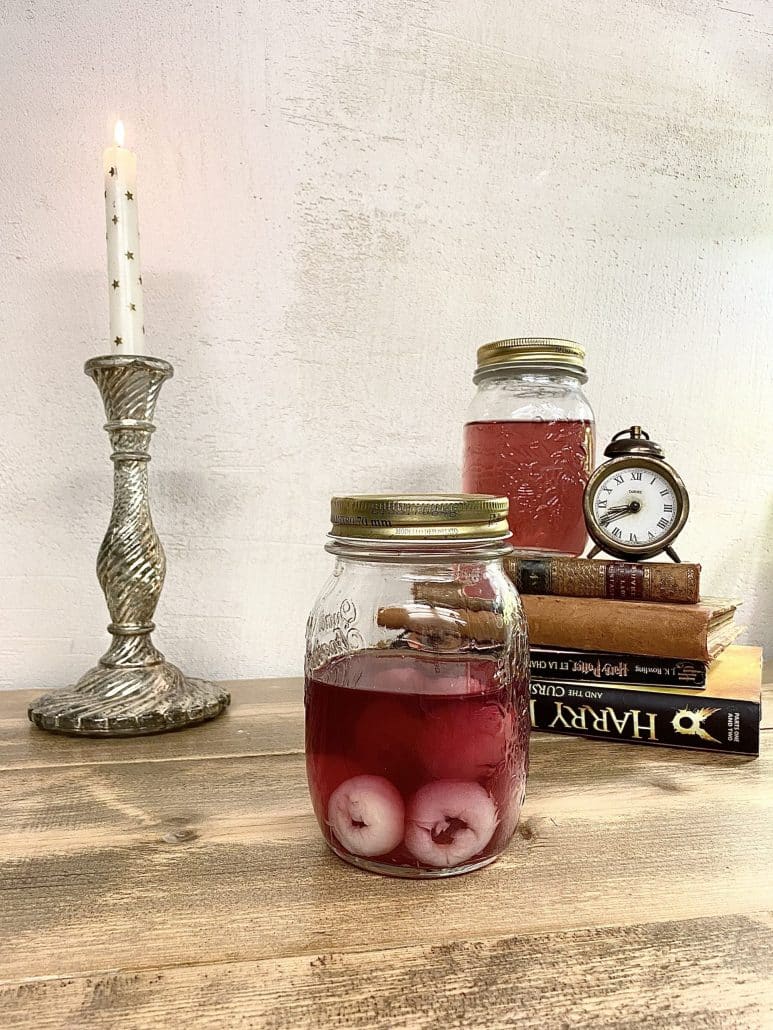 2. The mummified sausages
Here's a recipe that will amuse your guests at the time of the festivities! To make these little mummies:
Step 1 : Take the sausages and roll a strip of puff pastry that you spread with mustard, tomato sauce or pesto rosso (for color haha) one or two centimetres around
Step 2 : Put them in the oven at 410 °F for 15 to 20 minutes
Step 3 : When they come out of the oven, draw eyes and a mouth with mustard or ketchup.
Step 4 : Serve hot! 😉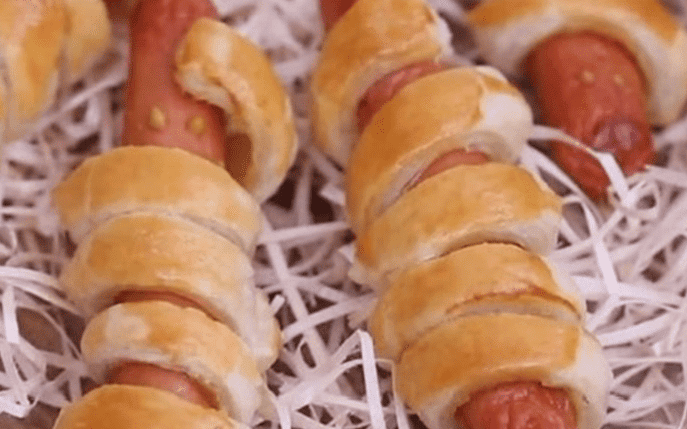 V. Immortalize and create memories!
To highlight and remember these moments, immortalizing this evening is a must! Even more if you've gone all out with a homemade Halloween decoration and the guests have dressed up!
If you choose one of our Escape Room Kits, use the photo booths and accessories for the pictures! 😉
The sleeping Curse has been lifted, the culprit of the murder has been found, or the mystery of the haunted house has been discovered?
Smile, you are being filmed!
You can also take a picture of all of you holding your diploma proudly to engrave this achievement!
Whether it's for your kids, your friends, or your family, you have all the cards in hand to make this October 31st a terribly memorable Halloween night for the spooky season!
The Escape Room Kit you choose will add the finishing touch to your event for an original scary adventure.
Psst, we can't wait to see your set-up, so send us the pictures of your fun Halloween party ideas at contact@escape-kit.com!