Best Harry Potter party ideas!
What you are about to discover...
Discover our selection of Harry Potter decoration ideas!
Are you a fan of witchcraft, magic potions or enchantment rituals? At Escape Kit, we love this fantasy world, and what we love most of all is to recreate this magical atmosphere at home.
Do you know who wrote Harry Potter? Well, it's J.K. Rowling who is at the origin of this saga that confronts the great wizard of Gryffindor and his sworn enemy Voldemort (or the one whose name we don't pronounce, oops).
Are you a fan of the movies with Emma Watson and Daniel Radcliffe? Find the 7 movies on the VoD platform Amazon Prime.
But we're not here to learn or watch Harry Potter, we're here to create inspired elements, so make your living space a new Hogwarts, with our selection of easy and cheap Harry Potter DIY!
Are you ready to discover how to draw Harry Potter or how to play Quidditch game in your backyard? Head to the Great Hall to find out!
I. A space full of magic
Turn your bedroom, living room, or even your bathroom into a space inspired by the greatest wizard movies. Merlin, Gandalf and Hermione will have nothing to fear after creating your Harry Potter decoration.
1. Harry Potter Wall Art
This is the key element for your Harry Potter decor! Travel to the magical world of the most famous wizard by using a wallpaper Platform 9 ¾ or a poster of the fat lady. You will find many sites that offer Harry Potter wallpapers at affordable prices.
If you are fond of painting, bring your personal touch by creating a brick wall!
What do you need?
White sheet
Rectangular sponge
Red acrylic paint
Container to pour the paint
How to proceed?
Cut the white sheet to fit your wall or door.
Dip one side of the sponge into the red paint. Psst, remove the excess paint from the edge of your container.
Lay the sponge on your sheet to form a brick. Do the same for the rest of the sheet until you have a brick wall 😉 And there you have it, your wall decor!
If you are short of time, you can opt for posters, or wall decorations inspired by Harry Potter universe.
2. The flying keys
Do you remember the scene in the first part where Hermione, Harry, and Ron have to catch Winged Keys (also called Flying Keys)? Wizards Create shares with you a little Harry Potter DIY tutorial to make your own Harry Potter Flying Keys:
3. Harry Potter Christmas ornaments
Want to decorate your tree with magical ornaments that will remind you of beautiful moments from the movie?
On Pinterest and YouTube, you will find many ideas for special muggle Christmas decorations, but we'll explain how to create a golden snitch for Christmas! 🙂
You will need:
2 white feathers
1 golden bauble (preferably with glitter for the fairy side)
Liquid glue
It's easy to make, just glue the two feathers together to create golden snitch, and you're done!
4. The ball of prophecy
A perfect decorating idea to dress up your desk or shelf to give it a little mystery. Ashley Louise explains how to make this beautiful decoration step by step.
Psst, why not match your crystal ball to the color of your house?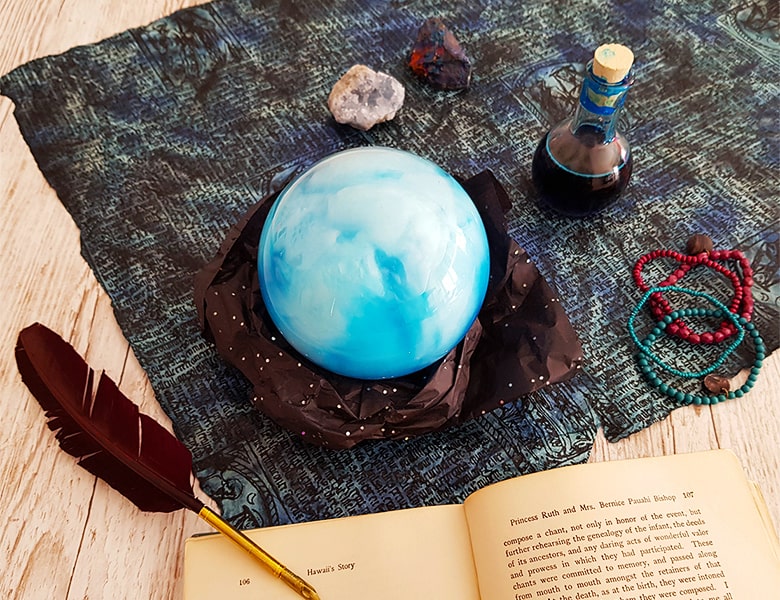 As a bonus, discover how to make little characters from the saga with recycled material like toilet paper rolls! With simple steps, we explain how to make them! You can also find many other tutorials on our YouTube channel:
II. A meeting of great wizards
Are you organizing a wizard themed game night or are you celebrating your special Harry Potter birthday?
You are lucky, we have prepared a selection of Harry Potter DIY especially designed for this kind of event.
The most important thing is to bet on the invitation of our dear wizards! Get inspired by our accessories available in our games!
The must-have activity to entertain kids! The team has created "The sleeping curse" for children (6-10 years old), an at-home Escape Room kit inspired by the world of Harry Potter. They transform your house or apartment into a magical adventure.
The Harry Potter Escape Room is a complete kit that includes: a setup guide, a clue and answer guide, the puzzles of the game, accessories to immerse the children and a personalized playlist.
Save time with one of our Escape Room kits!
30 minutes of setup, 1h of play, satisfied or reimbursed
1. The golden snitch with chocolate
A must-have snack on the table for a snack or dinner to give a little touch of magic!
At a family or friends gathering, sweets are very important, so let's go for this magical chocolate.
You will need:
Ferrero Rocher
Sheet of paper
Scissors
Liquid glue
To realize your creation:
Cut out wings from the white sheet. If you have trouble tracing symmetrical wings, you can find lots of printable templates on Pinterest. 😉
Take your Ferrero Rocher out of its brown paper base.
Glue the wings onto your chocolate (still in its gold wrapper).
And presto! A pretty golden snitch to nibble on.
2. A pencil ready to fly
Surprise your guests by making pretty broom pencils! Slip these little creations into the guests' thank-you bags, or use them for your games during the evening.
Hehe, you can even use them to learn how to draw Harry Potter, thanks to Art Land's video.
Psst, we have a little surprise for you! Thanks to our quick and easy video, you can also create your own mini nimbus 2000. It's here to discover it:
3. Magic potions
It's time to mix your finest ingredients and make a beautiful love potion to make your guests fall in love, hehe!
Sugar Maple Farmhouse's explains how to make potions in pretty bottles with ingredients that everyone has at home.
Psst, if you're looking for old bottles, you can find them on flea markets or on resale sites at low prices.
For a "fake eyes" effect, you can also put lychees in a jar, in which you add some grenadine syrup. We explain everything with a DIY video tutorial!
4. Quidditch Pong
For a day or an evening inspired by the Harry Potter saga, you will obviously need adapted activities and wizard games.
We suggest you to make a beer-pong with Quidditch hoops in the center of the table or a coconut shy by sticking pictures of characters on cans.
You can also adapt the game with non-alcoholic drinks. 😉 Find the rules of the game !
III. The outfit for the first day of school at Hogwarts
Like any good wizard or half-blood (oops) you have to prepare for the famous start of the magical school. Before you start, did you ask the hat (or talking hat) which Harry Potter house you were in?
Whether you're a Slytherin, Slytherin, Hufflepuff or even… Gryffindor, you'll find out what to wear for that first day of magic.
1. The wizard costume (Harry Potter costume)
This is the mandatory outfit to enter the mystical place, a wizard's robe or cape with the effigy of your house.
You will find many Harry Potter tutorials on the internet, but we recommend the wizard costume DIY on the Country Living page.
After your sewing workshop, don't forget your pretty patch to represent your home!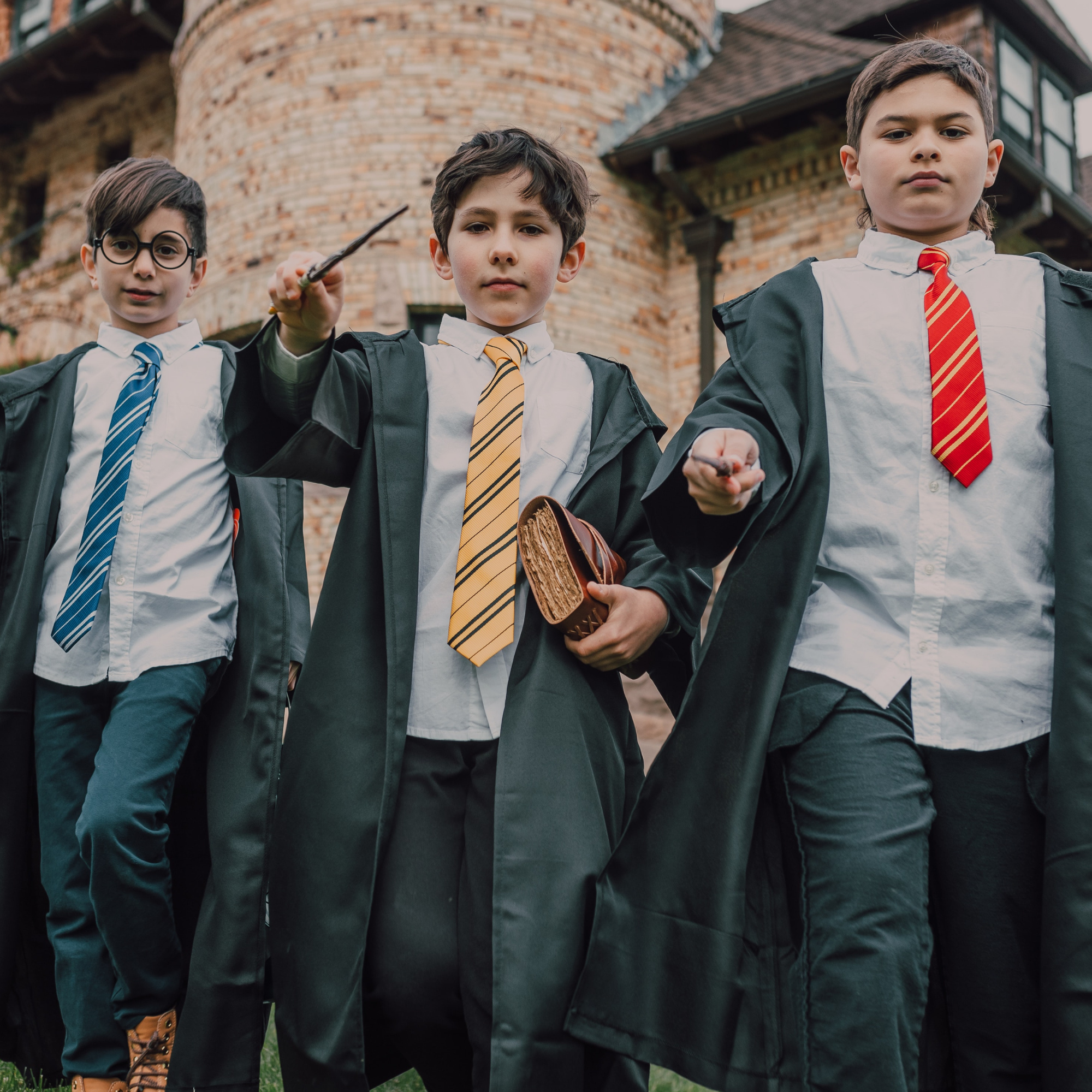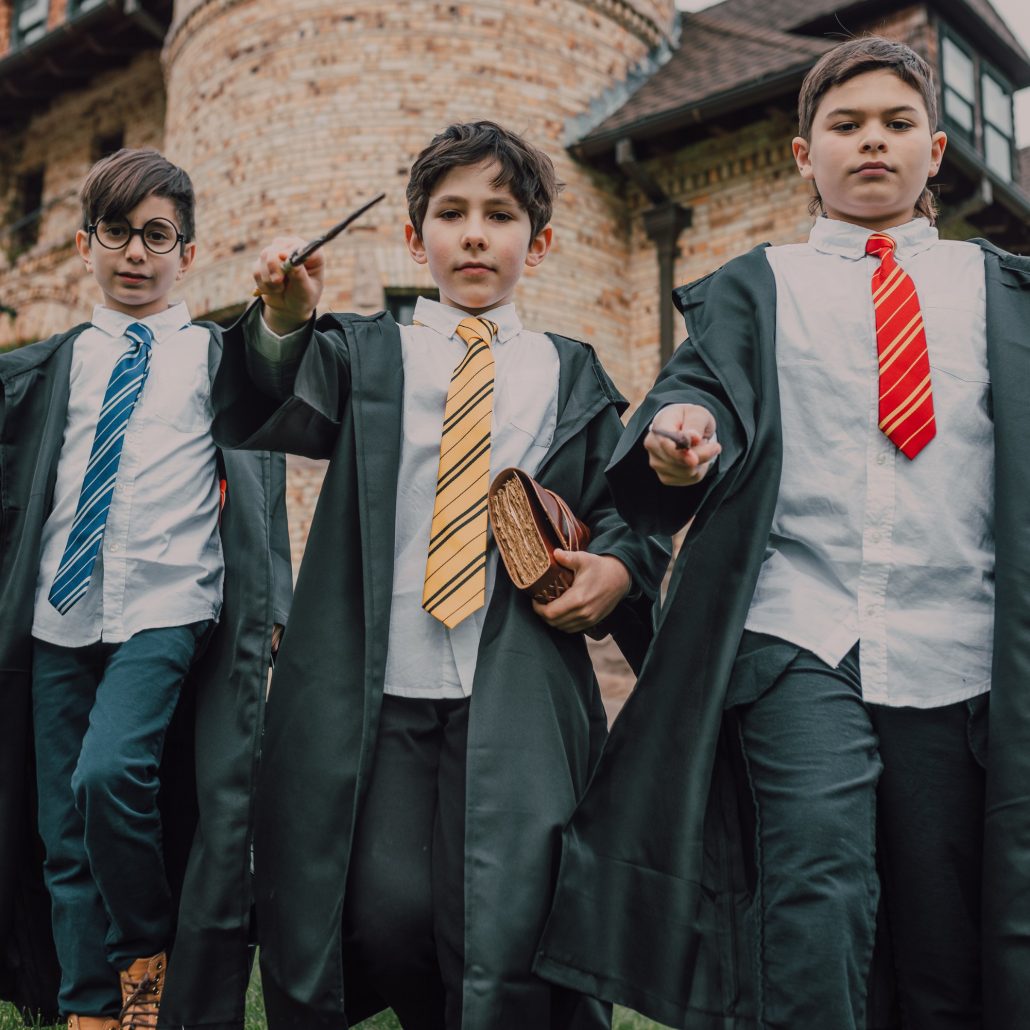 2. Luna's glasses
We are absolute fans of Luna Lovegood's glasses Spectrespecs, you know the ones from the Quibbler magazine?
Perfect for your first day of school or for a geeky night out, these glasses will give you the perfect look for Dumbledore's army. Demi Siriusly explains in video how to make the glasses, as well as the magazine "The Quibbler"!
3. The magic wand
It is the wand that chooses its wizard, but in your case, you will create the wand that suits you in a few simple steps. Find the DIY Harry Potter wand tutorial that we have concocted for you:
You will need:
1 pencil, pen or chopstick
Glue gun and transparent refills
Paint in the color of your choice
1 large pearl or gemstone
Optional: glitter, charms or other ornaments
How to make a Harry Potter wand?
Take your glue gun and apply glue unevenly to your pencil (or other chosen base).
Paint your wand the color of your choice. Psst, you can add glitter if you like.
Add a touch of glue to the top of your wand and place the bead or stone on top.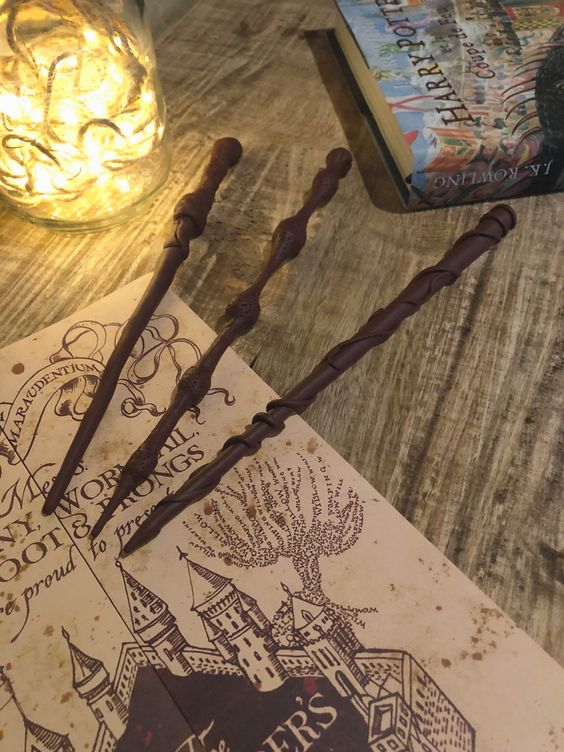 Now your wand is ready to cast spells, from Lumos to Leviosa, spells will no longer hold any secrets for you!
4. The Marauder's Map
How will you get around the school without a map? Indeed, the start of the school year would be compromised if you can't even find your way around…
Of course, we have the solution to find this magical map, you can first find it in a Harry Potter store, but we suggest you to make it yourself with your fairy fingers!
The blog Instructables has found the best card to print and explains how to make the folding, the details, etc.
Come on, it's your turn, "I solemnly swear that my intentions are bad".
IV. A wizard's feast
Are you invited to an almost perfect wizarding dinner party, or are you hosting a Harry Potter marathon appetizer dinner?
Create a magnificent feast worthy of the Yule Ball with these recipes.
1. The butterbeer recipe
"Why don't we go and have a butterbeer in the Three Broomsticks?", as our favorite characters say. In 2 times 3 movements, a stroke of the wand in the kitchen and make this succulent drink appear. (Psst, you can also make this drink without alcohol, it is adaptable to everyone).
You will need:
1 beer with or without alcohol of 33 CL
1 teaspoon of brown sugar
1 teaspoon of cinnamon
1 teaspoon of nutmeg
20 gr of butter
Whipped cream
How to make butterbeer from Harry Potter?
Melt the butter in a saucepan over very low heat.
Add the sugar and spices and mix.
In another pan, bring the beer to a boil.
Remove the spiced butter from the heat and add the hot beer.
Pour the mixture into a mug and add whipped cream on top!
Hehe, here is your drink ready to be enjoyed! 
2. The Harry Potter birthday cake
In Philosopher's Stone, Hagrid offers a hilarious cake to our protagonist, fluorescent colors, approximate spelling, learn to make this famous cake with the recipe of Bradley Bakes: 
3. Chocolate frogs recipe
"What are these? Those aren't real frogs, are they?" says Harry as he discovers the Hogwarts Express treats. These are the most popular confections in the wizarding world.
How to make Harry Potter chocolate frogs?
To make this, you will need a special mold, easily found on Amazon, and chocolate of your choice. 
Melt the chocolate in a double boiler, then fill the frog-shaped molds before putting them in the fridge. 
Your chocolate frogs are ready!
4. The oranges of Half-blood
A little word game for this great Harry Potter healthy recipe, to make this snack, you will just have to melt the chocolate of your choice and dip some blood orange quarters in it. Nothing could be simpler, could it?
You can also sprinkle your creations with pistachio or almond pieces before placing them in the refrigerator for a few hours.
Maintenant, vous êtes prêts à  réaliser votre meilleure déco d'anniversaire ou de soirée spéciale animaux fantastiques ou Harry Potter !
Now you're ready to make your best birthday or party decorations for fantasy animals or Harry Potter!
We hope you'll enjoy our wizard (or muggle, hehe) DIY's, don't hesitate to send us pictures of your creations or to share your ideas in comments!