Top 10 gift ideas for teachers and babysitters!
Discover our selection of gifts for teachers and nannies!
Would you like to give a gift to your little wolf's babysitter or teacher? Whether it's for the school holidays, Christmas, a special event or simply to say thank you, giving them a gift is a great way to show your gratitude. Working with children isn't always easy, because the little rascals know how to turn our heads, so what could be better than a little gift from parents and students?
Escape Kit has put together a selection of the best gift ideas for everyone involved in your little ones' education! In our opinion, it's important to congratulate childcare specialists: teachers and babysitters. 😉 It's also an act of kindness and recognition!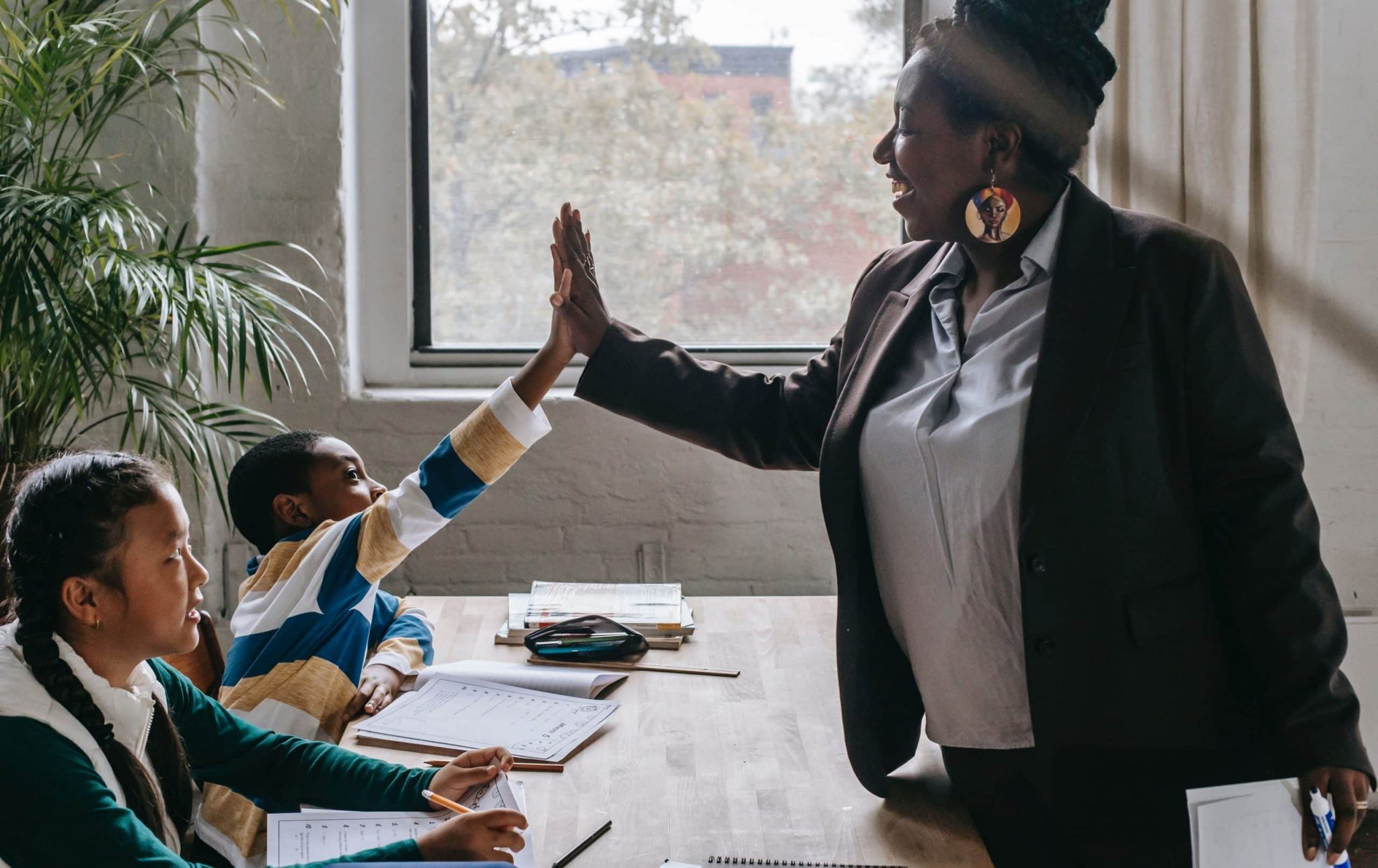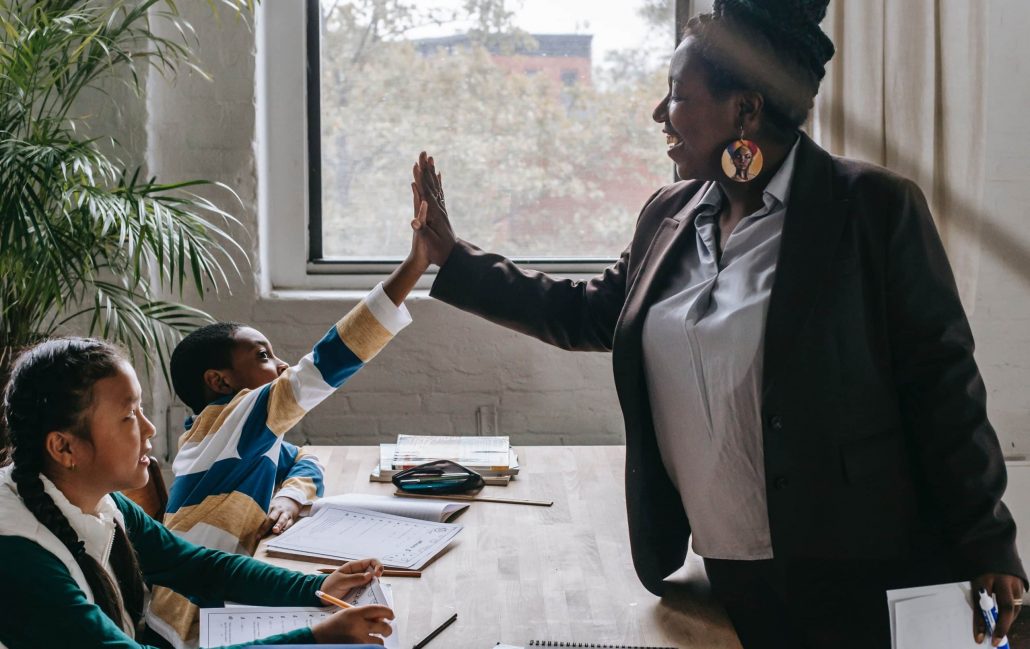 As Paul Valéry said: "Education is not limited to childhood and adolescence. Teaching is not limited to school. All our lives, our environment is our education." 
That's right! Throughout our lives, children, and adults alike form emotional bonds. We learn from the people who cross our paths, and who sometimes have a profound impact on our lives. That's why giving a gift to those who have touched us or to whom we are grateful is a symbol of gratitude! 😉
This is where you can choose your next personalized gift for Christmas, school holidays (end of year teacher gift ideas) or even a birthday!
1. The most adventurous – A turnkey Escape Room kit!
How about ending the year on a high note with a moment of sharing at school? An original gift for the teacher and/or babysitter for a moment of laughter, exchange, and reflection! Offer an escape room: a mix of board game, treasure hunt and adventure game. It's a fun activity (indoor team building activities & outdoor team building activities) to rack your brains and have fun at the same time!
A cheap and reusable gift: she or he can also set it up with family, friends, or children. 😉 Discover Escape Kit ready-to-play escape room kits at just $23 for a 1-hour adventure.
Set-up time: 5 minutes
Step one: Order the Escape Kit gift card.
Step two: Print the gift card. 
Step 3: Enter the code you received and write a note!
The concept? It's as easy as 1-2-3: print, set up and play!
2. The most creative – Ideas for clay sculpting
Clay is a natural material, free from harmful substances, that children will love to handle! Organize a modeling workshop with your child and have fun creating beautiful objects. Be creative, it's up to you! You can use cookie cutters from the kitchen to create beautiful shapes, but also key rings or medallions to make a pretty necklace.
Psst, don't forget to make a small hole for a jewelry cord or ring. 
Do your little wolves love nature? Pick beautiful flowers and leaves to place on your creations. When they're dry, you can remove them. The result? A beautiful imprint to remind us of the beauty of nature! 🙂 
Are you a fan of animals or monsters? No need to be an expert! You can help toddlers make simple shapes like rabbits or funny monsters. 
Preparation time: 40-60 minutes
What do you need? 
Apron or old t-shirt 
Cardboard or newspaper to protect your surface 😉 
Paint  
Toothpick (essential for making the small hole)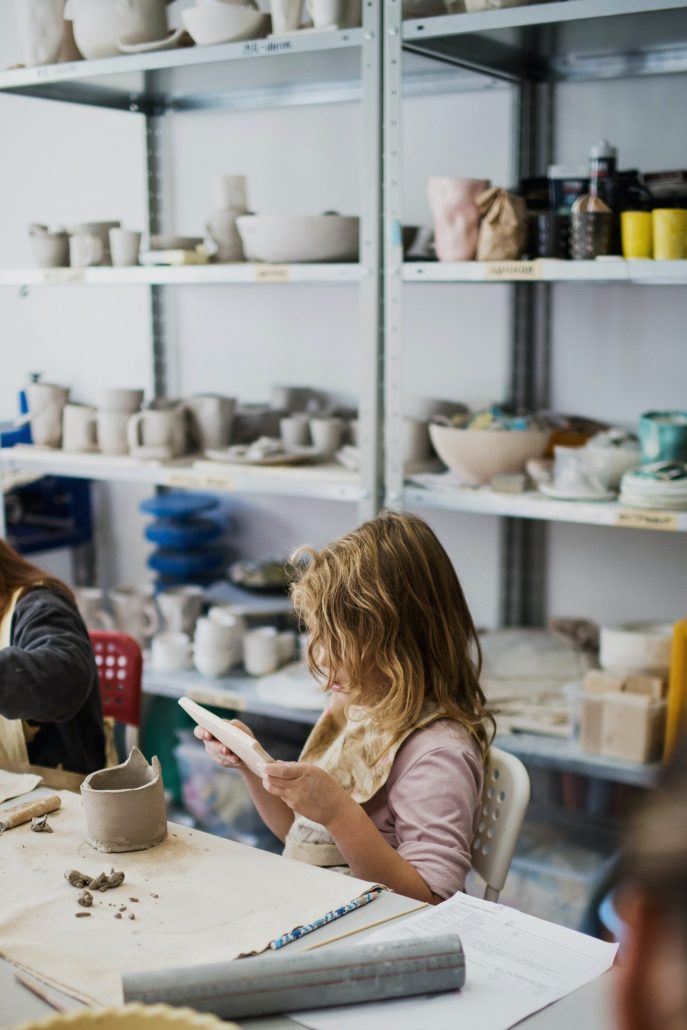 A fun summer crafts for kids & adults. Don't forget to add a touch of color to your creations with a little paint! The little extra? You'll have soft hands after this activity, hehe. 
3. The most DIY – A personalized bracelet
Oyé Oyé! Do your children love originality/creativity? Invite them to a jewelry workshop to make their own personalized bracelet. A cheap gift idea for the teacher and/or babysitter, An easy and original activity to do with your little ones! Take the opportunity to write a little message on your bracelet: "Best, teacher, nanny, love, kisses…". 
Preparation time: 20-30 minutes
What you need? 
Scissors 
Glue 
Elastic thread 
Pliers 
Beads in all colors 
Charms 
Tassels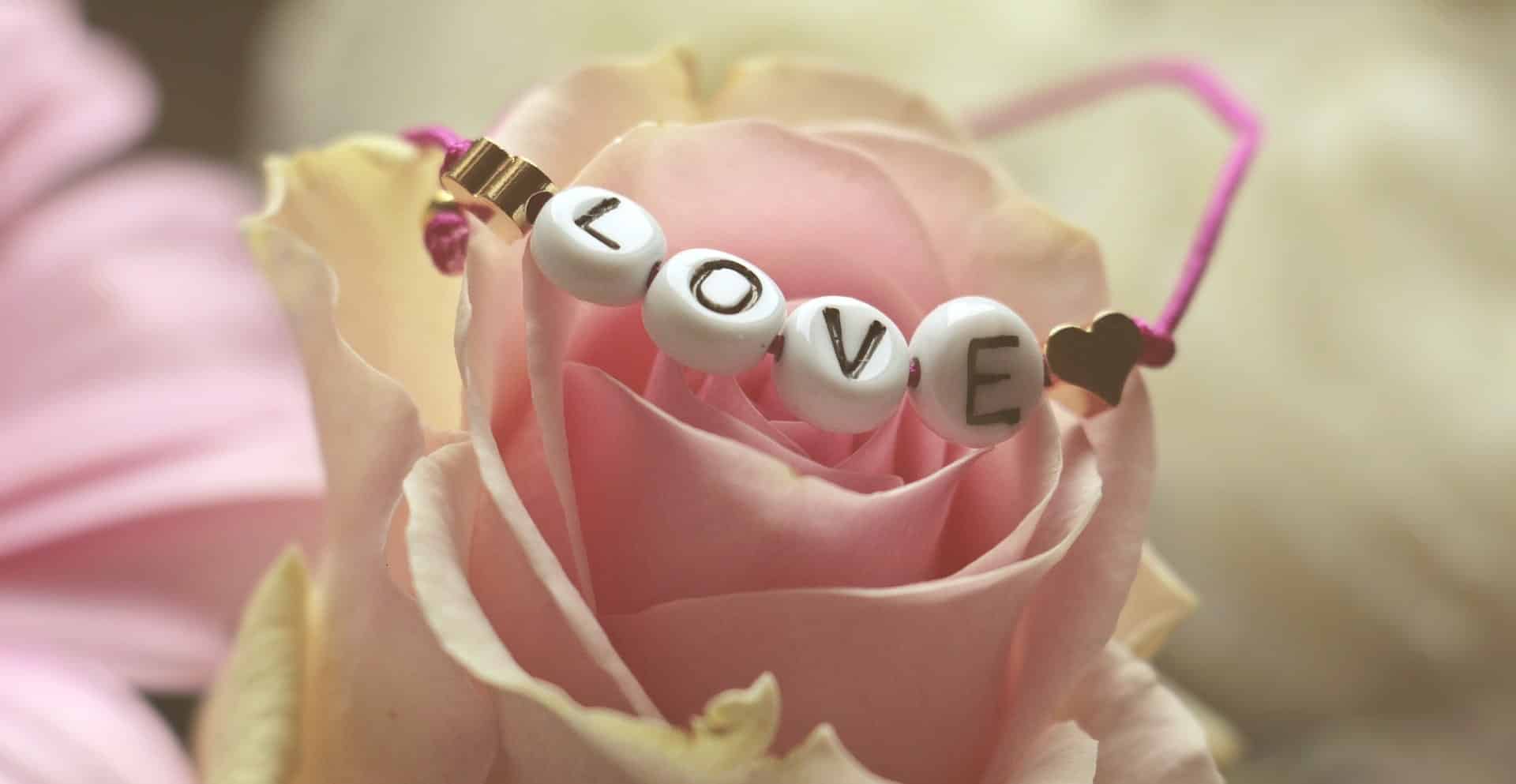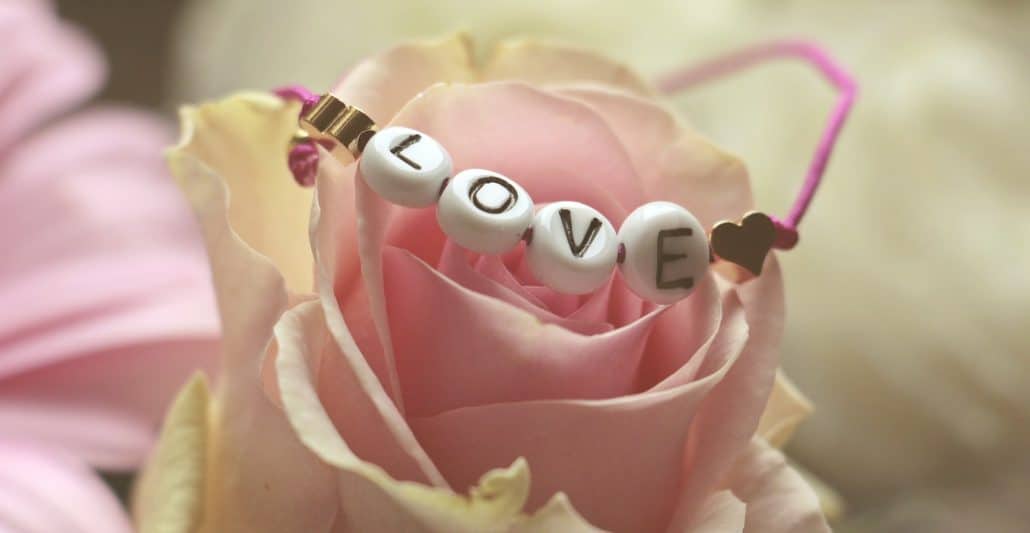 Something Turquoise shares with us a short video explaining, step by step, how to make your own bracelets. To your creations! 😉  
Would you like to buy a bracelet at a low price? Discover Little words project's lovely creations from $35.00.
4. The most eco-responsible – Vases made from recycled bottles
Do you care about the environment? At Escape Kit, recycling is essential, so giving a new life to all bottles, whether plastic or glass, helps reduce waste! No matter the shape, color, or origin. The aim? RE-CY-CLE them and turn them into beautiful vases. A perfect homemade gift idea for Christmas, a birthday or simply to say thank you to your teacher or babysitter! 
Preparation time: 30 minutes (approx.) 
What do you need? 
Glass and plastic bottles 
Glass or porcelain paint 
Glass markers 
Apron or old T-shirt
The steps to follow?
Choose your bottle, rinse it and leave it to dry. If you've chosen a plastic bottle, cut it in half and keep only the bottom. 
Decorate it as you like (paint it with one or more colors).
When the paint is dry, draw whatever you like: flowers, animals, a landscape… 
Leave to dry. And there you have your beautiful vase!
Ps: before offering the vase, don't forget to pick some beautiful flowers 😉 
Would you like to know more about eco-friendly actions? Discover our 8 ecological reflexes. 
5. The most gourmet – A recipe in a jar
This way to the little gourmets! Want to treat your teacher or babysitter? We've got an original GIFT idea for you and your little ones to make at home. Do you love cookies too? Let's go and create your own recipe!
Preparation time: 15-20 minutes
First step: find a glass jam jar! 
Second step: place the ingredients in your jar:
100 g flour
1 teaspoon baking soda
1/4 teaspoon salt
50 g rolled oats
100 g sugar
100 g chocolate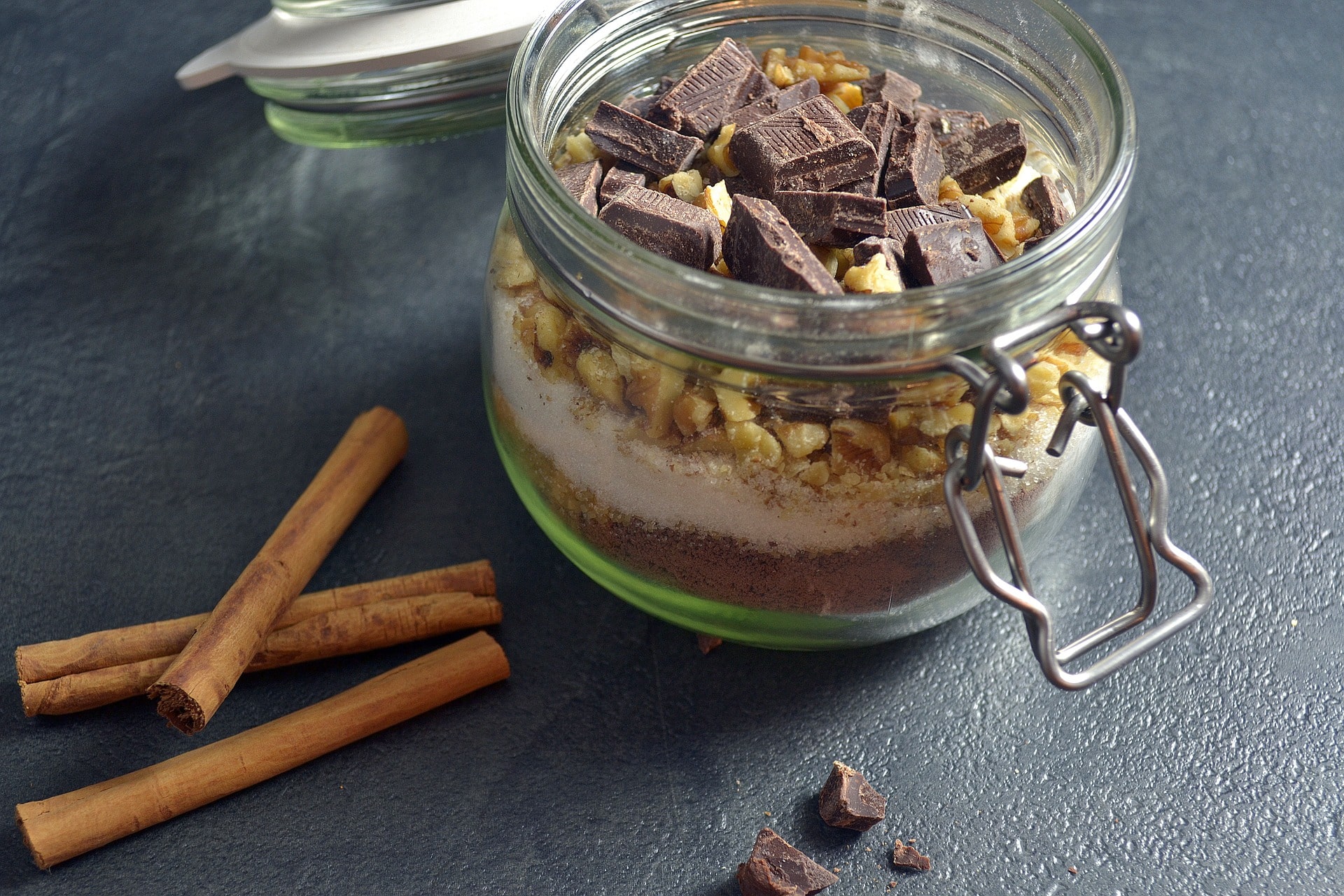 Tip: Mix the flour, baking soda and salt together before placing in the jar! 
Now that you've got all the ingredients, alternate layers and colors to get a pretty mix! It's up to you! 😉 You can also buy a ready-made mix at Etsy from $7. 
6. The most timeless – Photo frame with dried leaves
Do you love going for walks and your little one loves picking up little flowers? We've got a great idea for a cheap and easy gift for any occasion: Christmas, birthday, thank-you! Make your own beautiful photo frame from dried leaves.
A great way to give a botanical decoration for a touch of nature! 🙂 
Preparation time: 10 minutes
What you need? 
Plants, leaves, flowers
Tissue paper (optional) 
A book from your library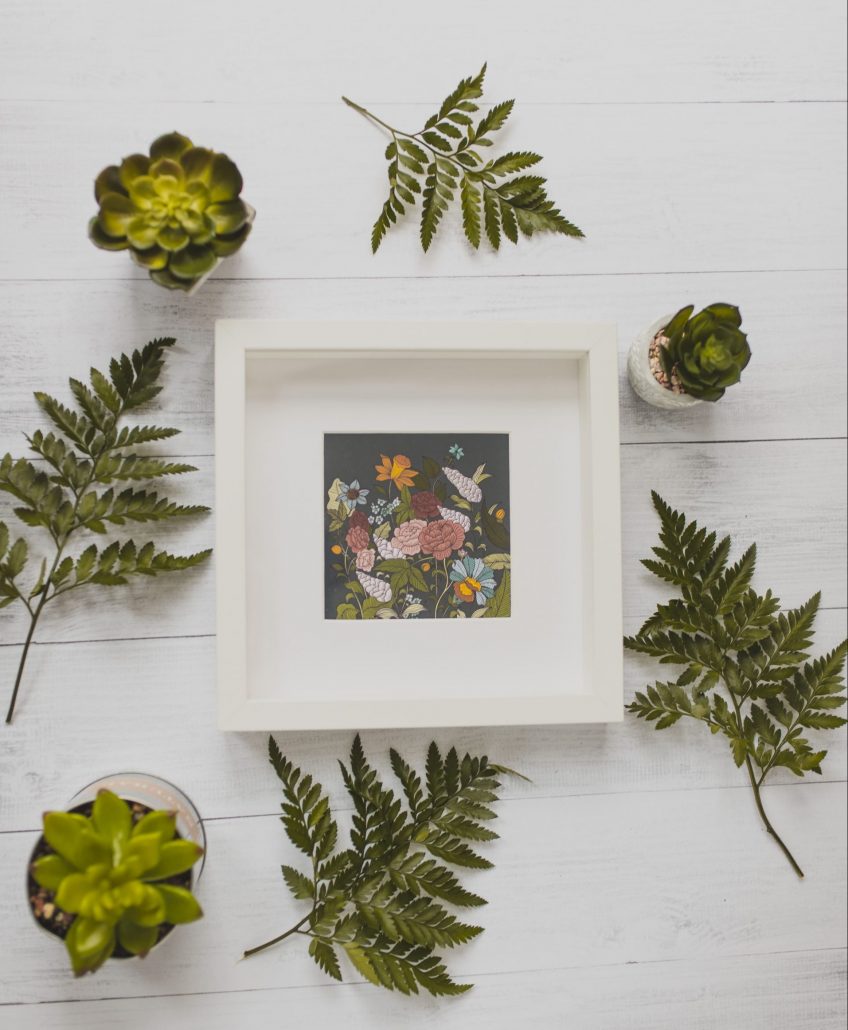 The steps to follow?
Choose the plants, leaves and/or flowers you'd like to frame. 
Dry your leaves in tissue paper and then place them in a large book. Be careful not to crease! Leave to dry for a few days. 
Now that your leaves are dry, it's time to decorate! Place them as you like in your frame. 
Close the frame, and you've got a beautiful creation!
Psst, let your imagination run wild! Don't forget to write a note to accompany your gift. 😉 Short on time? Choose an Etsy hanging herbarium frame from $1!
7. The most natural – Making a terrarium
Terrariums are little creations that are easy to make yourself. They're perfect for any space, whether it's a living room, a classroom or even an office!
A cheap and original gift to make at home, to add a green touch to your decor. 
Preparation time: 30 minutes
What do you need? 
Glass vase or jar
Clay balls 
Potting soil 
Succulents or other cacti 
Moss 
Small pebbles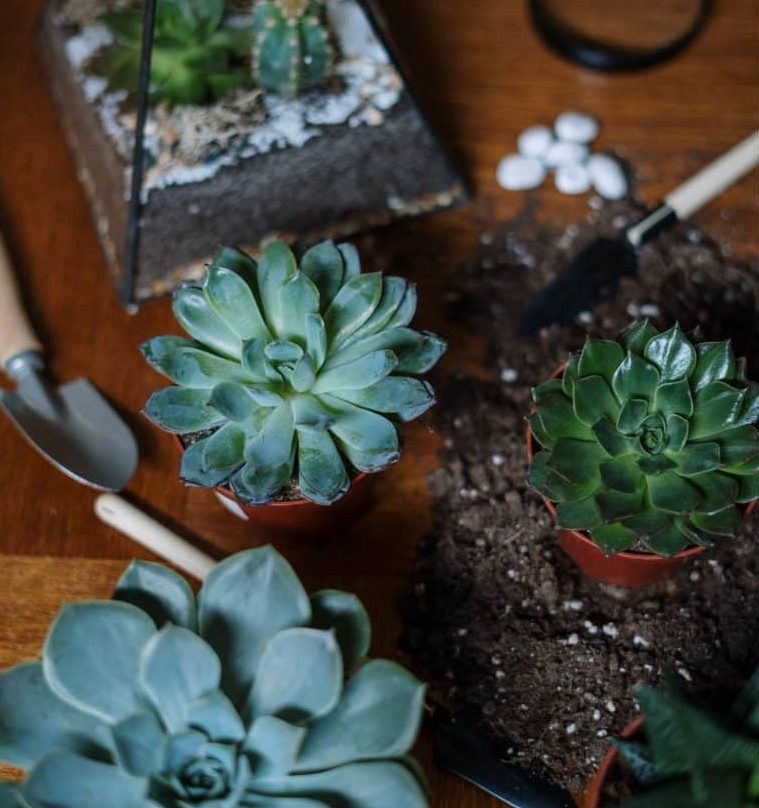 How to create it?
Place your clay balls at the bottom of your container.
Place potting soil on top. 
Choose the location for your plant by making a hole in the ground to suit the size of your plant.  
Remove your plant from its pot and plant it in the hole you've made. 
Cover the hole with soil to cover the roots. 
Place your moss all around and don't forget to decorate your terrarium with the little pebbles!
And there you have your mini garden, ready to give as a gift! It's as easy as saying hello! 😉
Short on time? Discover Terrain's terrariums! Prices range from $24 to $70.
8. Most seasonal – Seasonal flowers – Bouquet of lily of the valley, lavender and daffodil
Ah, the seasons! Just the way we like them, with the warmth of summer, the colors of autumn, the freshness of winter and the scents of spring. There's nothing better than a gift of seasonal flowers, a personalized gift for the teachers and babysitters. Take a stroll and pick some lily of the valley, lavender or daffodils!
Preparation time: 15 minutes
What you need?
Pick flowers from your garden, forest or park
A piece of string or rope
A piece of thick paper
Postcard (optional)
How to wrap your bouquet?
Take your fresh flowers.
Tie them with a piece of string around the stems. This will hold your flowers in place! 
Roll the piece of thick paper into a cone. 
Write a note on the postcard and thank your teacher and/or nanny! 🙂
Here's your beautiful bouquet of seasonal flowers! Psst, they smell great 😉
9. Most fragrant and decorative – Homemade lavender sachet / Pot pourri
How good it is to smell the freshness of lavender! That scent that reminds us of Provence. Make lavender sachets and give a personalized gift that's sure to please!
Preparation time: 10 minutes
What do you need to make this quick DIY?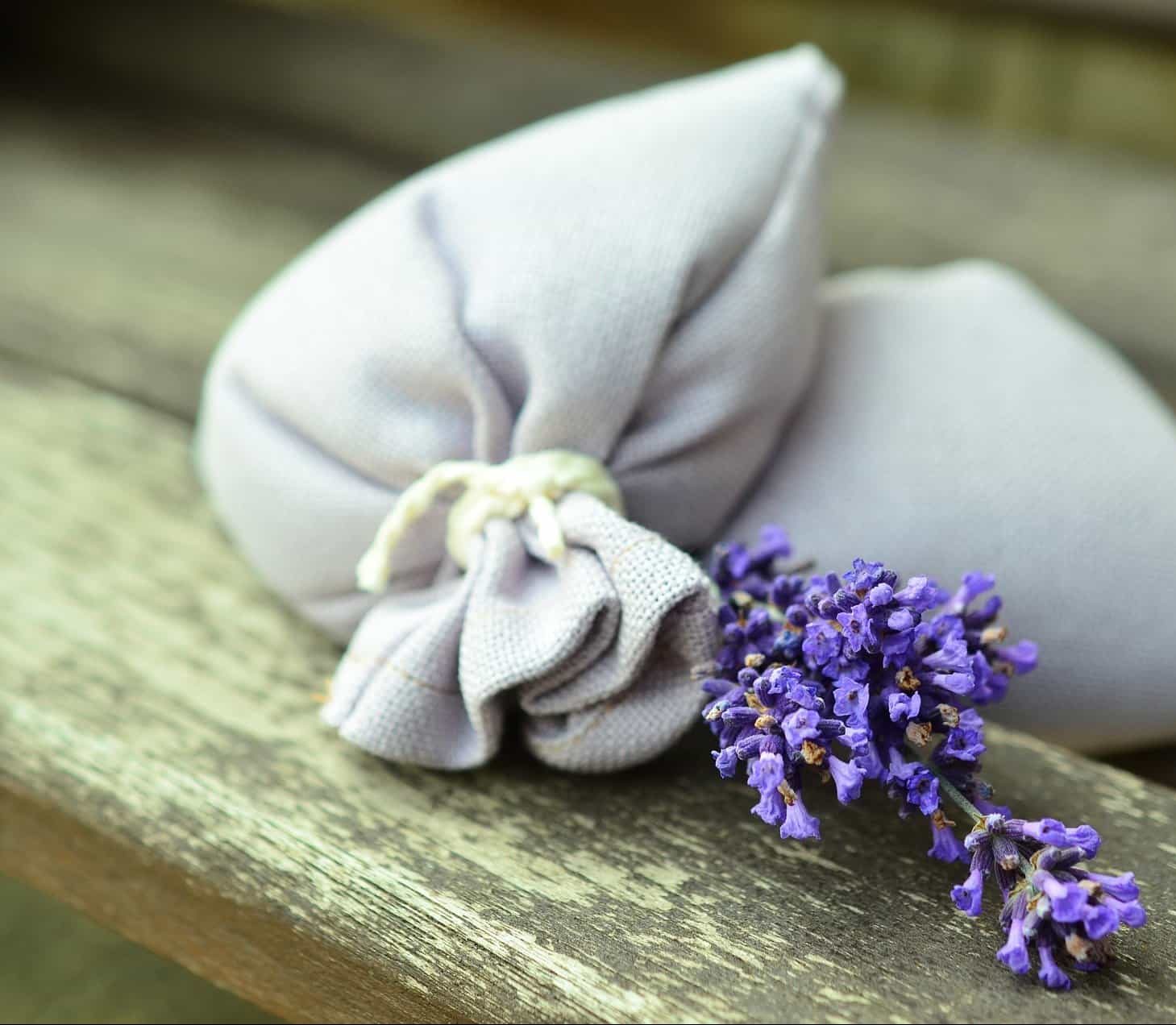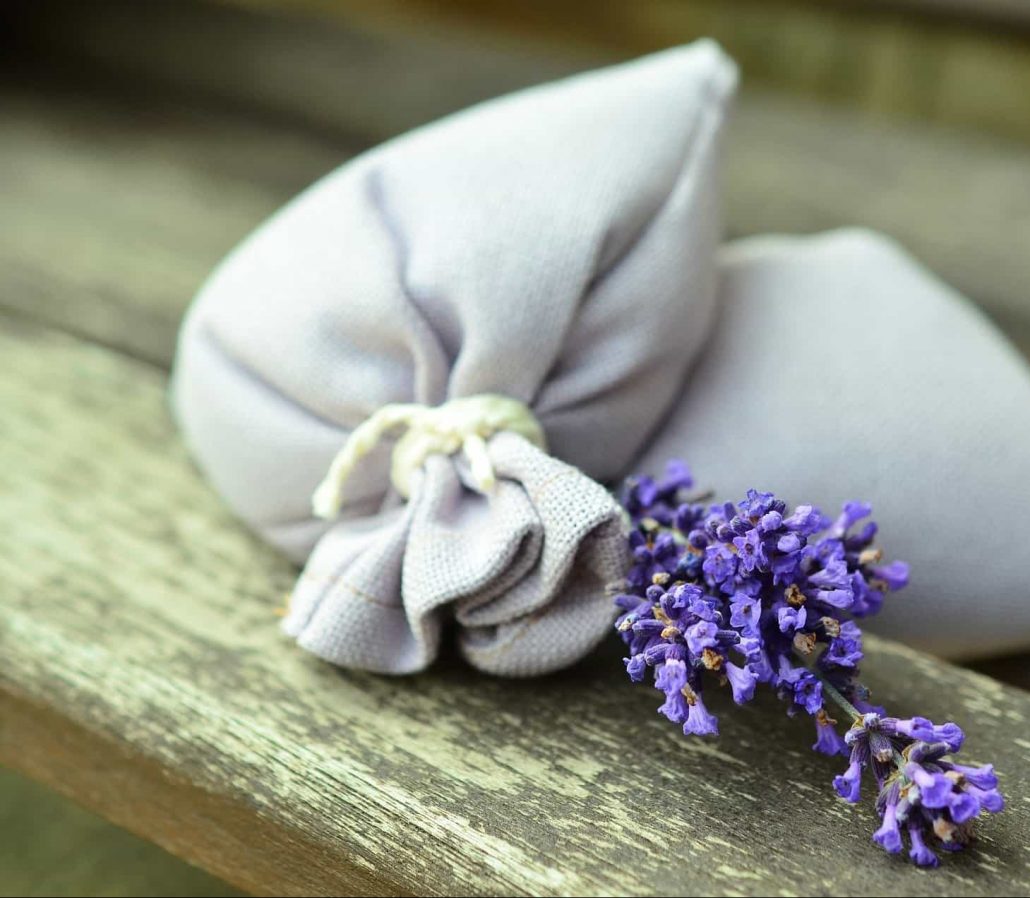 How to make fragrant sachets?
Pick your own lavender or buy dried lavender. 
If you have fresh lavender, let it dry for a few days.
Once dry, crumble the lavender into a bowl. Psst, your hands will be fragrant 😉 
Fill your tea bags with dried lavender.
A perfect, cheap gift for Christmas, the school holidays or to thank the teacher or babysitter!
And why not top off your lavender sachets with another little gift? Have you heard of potpourri? At Escape Kit, we love homemade gifts! Here's a tip on how to make homemade potpourri. Perfect for scenting your classroom or home!
Take advantage of every season to collect all kinds of flowers.
What do you need? 
How do you make it?
Pick up the flowers and leave them to dry. If you don't have much time, place them on baking paper and bake for 1 hour at 100°c. 
Place all the flowers in the jar, and you've got a wonderful gift for the teacher or babysitter. Psst, you can also customize the potpourri container. Get your paintbrushes ready! 😉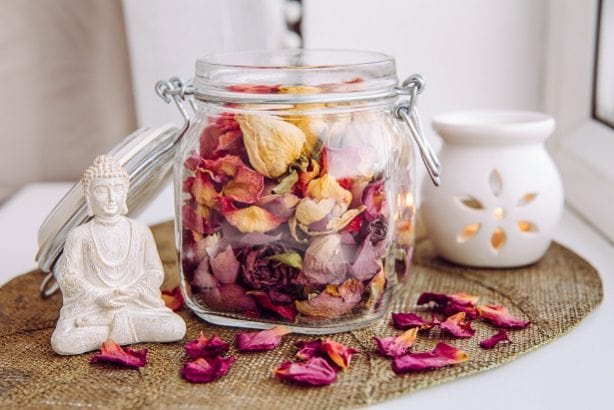 Simple, cheap gift ideas for everyone, for Christmas, birthdays or the end of the school year! 🙂 
Prefer to buy her little creations? Opt for the potpourri from Bundanoon Botanicals at just $4.00 – $6.00, and lavender sachets from Walmart from $10.99. 
10. The coolest – Decorating a tote-bag
What's a tote bag? It's an English term used to refer to a "large bag". Today, it's an indispensable fashion accessory! It's practical, hard-wearing and an alternative to plastic bags. An original, useful, eco-friendly and personalized gift, perfect for giving! A fun craft activity for kids! 
Preparation time: 20-30 minutes
What do you need? 
A tote-bag / small cotton bag
Textiles markers 
Paints 
Brush 
Apron or old T-shirt 
A piece of cardboard
Get creative! Decorate your tote-bag as you wish. A beautiful landscape, flowers, animals, a little message to say thank you, the name of your teacher or nanny.
Psst, we've got a little tip for you: to draw better on the tote-bag, place a piece of cardboard inside. Let's get creative! Also discover Vista Print tote-bags to personalize from $10.
11. Most original – A souvenir of your school year
With school holidays just around the corner, are you looking for an original and cheap gift? Invite your child to immortalize his or her school year by drawing his or her classmates and teacher. 
Preparation time: 30-45 minutes
What do you need? 
How to get started?
Set up a dedicated space for your little one to let his imagination run wild! 
Invite him to draw his classmates. 
Add a touch of creativity by sticking little buttons on everyone's head after drawing their bodies.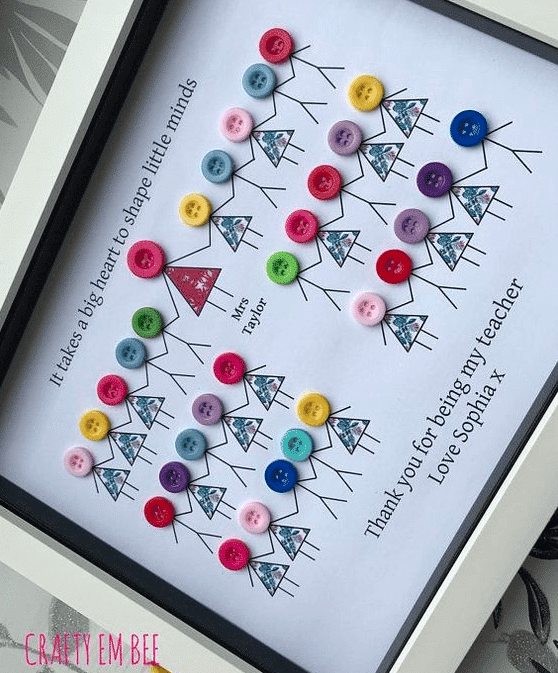 Is your drawing ready? All you have to do is put it in the photo frame, and you've got a lovely souvenir to offer! 🙂
Now that the little craft is done, how about a brain-bending activity? Discover all our turnkey Escape Rooms kits to make at home. Take your little ones on an adventure through the world of Harry Potter, superheroes or even Wonderland! 
Amaze your children!
30-minute installation, 1-hour playtime, satisfied or reimbursed
12. BONUS: an original gift for mom or dad!
Looking for an original gift idea for your mom or dad? Discover our DIY tutorials specially designed for you!
For Mother's Day, discover how to make a beautiful personalized bouquet of flowers to celebrate Mother's Day with love and creativity!
For Father's Day, make a champion cup with a personalized message: "The best dad". Follow the instructions in this DIY tutorial and create this personalized gift that will make your dad proud and happy on Father's Day!
We hope you enjoy our gift ideas for the teacher and babysitter! 🙂 A selection of the best thank-you gifts, useful and original, to say thank you to all the people who accompany our little wolves throughout the year!   
Do you have any other ideas? Would you like to share your creations with us? Leave us a comment!